Take This Road Trip Through Virginia's Most Picturesque Small Towns For An Unforgettable Experience
If you ask us, nothing is better than a road trip in Virginia. It's an opportunity to expand your horizons, clear your mind, and introduce you to roads less traveled. And that's precisely the goal of this road trip we've curated for you, which will take you through some of the best small towns in Virginia. Not only will you learn more about all these great places that make up the backbone of Old Dominion, but it's also a pretty incredible drive. With some of the most breathtaking sites around, this small town Virginia road trip is one you won't soon be forgetting.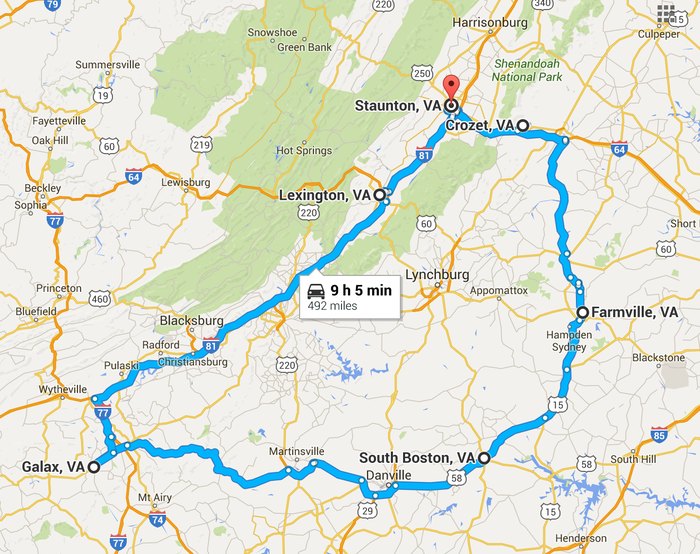 How many of these stops have you visited before? Are there any other great small towns in Virginia you wish had been featured? Share your thoughts and experiences in the comments!
Address: Staunton, VA 24401, USA
Address: Crozet, VA 22932, USA
Address: Farmville, VA 23901, USA
Address: South Boston, VA 24592, USA
Address: Galax, VA 24333, USA
Address: Lexington, VA 24450, USA
Best Road Trips In Virginia
September 13, 2022
What are some of the best small towns in Virginia to visit on a road trip?
Small towns are the heart and soul of Old Dominion and we've got so many great ones. Some of the small towns in Virginia have minuscule populations that are so tiny you've probably never even heard of them, but plenty of others are a little bit bigger and have lots of wonderful attractions.
What are some other great road trips in Virginia?
Do you love to check out beautiful places in Virginia? Or maybe our wonderful waterfalls? You can plan a road trip surrounding just about anything, so get on out there and explore our amazing state!
What are some of the best small-town restaurants in Virginia?
Staunton has some pretty amazing restaurants. The population is under 25,000, but it's got just as many great places to dine as many larger cities.
Address: Staunton, VA 24401, USA
Address: Crozet, VA 22932, USA
Address: Farmville, VA 23901, USA
Address: South Boston, VA 24592, USA
Address: Galax, VA 24333, USA
Address: Lexington, VA 24450, USA