We Are Virginia Tech. We Will Prevail. Remembering April 16.
On April 16th, 2007, the eyes of the world turned to a small town in the mountains of southwest Virginia. By day's end, 32 lives were lost and we witnessed one of the greatest national tragedies to occur in this century. But what followed in the coming days and months was equally powerful as a community came together and gained strength through tears, courage through grief and love through sadness. For me, the events of April 16th, 2007 have deeply personal significance and while I grieve with anyone who has experienced loss or tragedy, today, I celebrate the 32 at Virginia Tech and the friends and family that stood together on that day and the many days that have followed.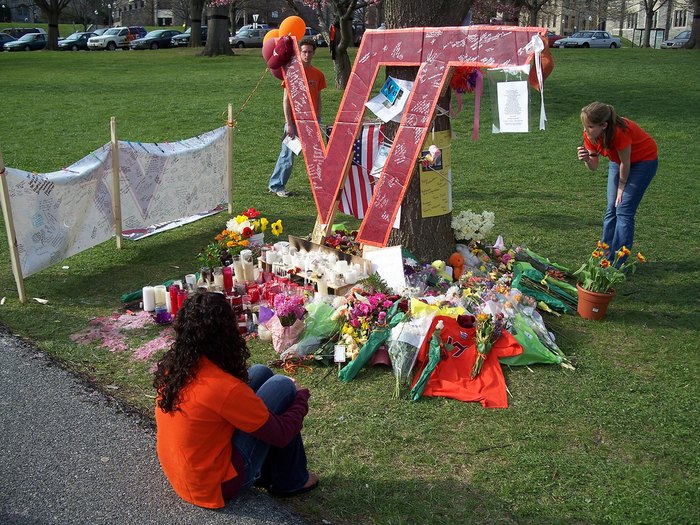 It's hard waking up on this day. It has been for the last 7 years. It's not the waking part that's difficult, it's the waking up to "normal", then slowly remembering a very different day 8 years ago. The small seed of memory slowly grows throughout the day, roots spreading down deeper and stronger, while memories unfold with increasing intensity. Even with the fickleness of Virginia spring, Aril 16, 2007, stood out. It was gray and cold. Snow fell in flurries – a rare happening for April, even in Blacksburg. What unfolded that day will forever be etched in the minds and hearts of everyone who was there – in person and in spirit. It was a surreal and slowly dawning reality that settled on us like a blanket. The phone calls began, some ended in relief, others in bone-deep grief. We gathered in homes, in classrooms, in auditoriums and stadiums. The minutes turned to hours, which turned to days, weeks, months and now years. They say, "time heals all wounds", but sometimes "healing" is only a softening. An ability to quietly wander the halls of memory without paralysis.
And so today, I ask you to remember. I ask you to remember the 32 lives that were cut short and to celebrate the intense bravery and courage that was shown by teachers, students and friends – bravery that saved lives, even when it cost the life of the one showing it. And I encourage you to see the outpouring of love and support that came to us that day. I, and thousands of others, will forever be grateful.
This site is called "Only in Virginia" and is intended to remind us of what is beautiful, fun, quirky, unique and special about our state. But every place has its story – and no story is perfect. This is a hard week for many people – not just in Virginia, but around the nation. The week between April 13th and April 20th marks the anniversary of the Virginia Tech tragedy, as well as the Columbine Shootings and the Boston Marathon bombing. We also remember the events at Sandy Hook Elementary, Florida State University, University of North Carolina and the many other campuses and sites that have suffered from senseless violence.
This post is not to take away from the beauty of Virginia, but to remember with honesty the strength, courage and love that was revealed during a time of tragedy. Thank you for taking the time to reflect, to share the memories and, most of all, to honor the 32. For today, we are all Hokies.
In closing, I leave you some of the words spoken by Nikki Giovanni in convocation on April 17th, 2007. These are the words that have carried us through.
We are Virginia Tech.
We are sad today, and we will be sad for quite a while. We are not moving on, we are embracing our mourning.
We are Virginia Tech.
We are strong enough to stand tall tearlessly, we are brave enough to bend to cry, and we are sad enough to know that we must laugh again.
We are Virginia Tech.
We will prevail.
We are Virginia Tech.
                                 -Nikki Giovanni, April 17, 2007 
OnlyInYourState may earn compensation through affiliate links in this article.