Here Are The 10 Most Dangerous Places In Virginia To Live
Recently, we gave you a list of the safest places to live in Virginia based on the statistical analysis provided by FBI Crime Report data. But if there's a list of the safest places … well, let's just say that there has to be a list of the most dangerous places in Virginia as well. According to Sir Isaac Newton's Third Law of Physics (yep, I'm pulling old school science on you for this one), every action has an equal and opposite reaction. So naturally, the bottom of the list of safest places is going to equal the top of the list of most dangerous places.
Now I know this is going to start a fight. So before it begins, let me just say that we used two reports (feeling that one would provide too much variable data) and compared them. One list, Movoto, used towns and cities with a population over 10,000. The next list, RoadSnacks (.net), used data from towns and cities with 1,000 or more residents. Both looked at the rate of violent crimes vs. property crimes to make their numbers work. We cross-examined the numbers and ranked according to the places that appeared on both lists, where they appeared on those lists, and added high-ranking towns/cities that appeared on only one list based on the strength of their ranking.
What we found … wait for it … is that crime does happen in Virginia. But we also found that even the "most dangerous" places are still pretty cool places to be. Like any city in the world, being cautious and aware is the key to safety. So, don't be discouraged if your town or city made this list. In Virginia, even the "worst" places are still pretty great. And having lived in a few of the cities on this list myself, I can personally say that I loved them – and still have most of my sanity and possessions intact.
And last, but not least, I feel that it is essential to point out that none of the data is a reflection on the efforts or effectiveness of the fine men and women of the local police and sheriff departments – this simply show the number of times crime occurs.
So here it goes …. let the comments war commence! Here is the list of the most dangerous places in Virginia: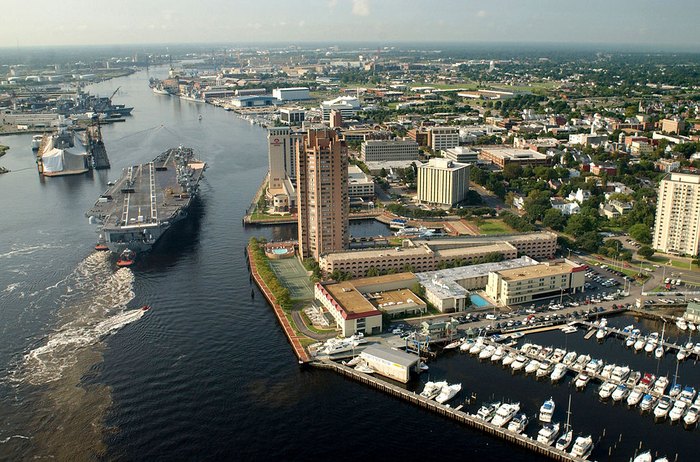 Again, keep in mind that the FBI runs its numbers based on reported crimes. So really, we have to praise these police departments for their consistent reporting efforts.
Do you live in one of these dangerous cities in Virginia, or have you lived in one of them in the past? What was your experience? And do you think there are some other dangerous places to avoid in Virginia not listed in this article? Let us know in the comments! We would love to hear your feedback.
On a brighter note, check out these 10 most amazing small towns in Virginia.
OnlyInYourState may earn compensation through affiliate links in this article.
most dangerous places in Virginia
April 05, 2022
What stereotypes are there about Virginia?
Virginia, like every other state, has its share of stereotypes and cliches. So let's dive in and take a look at some of the popular stereotypes about Virginia and Virginians. First, Virginians are food lovers, which makes sense since food has influenced the culture throughout the decades perhaps more than any other state. It's also worth noting that Virginia may perhaps lay claim to the best seafood (blue crabs and oysters) in the United States. Maybe we're biased about our own food, but try out these seafood restaurants and hometown kitchens and you'll start to see why food is such a big deal in Virginia. Do you agree with these stereotypes? What are some others that you would add?
Is Virginia a great place to live?
Virginia's state motto is, "Virginia Is For Lovers," and has been used as a tourism campaign slogan in the past. Virginia is a perfect state for anyone who loves literature, art, culture, people, history, wining and dining, nature, hiking, and cycling! If you're looking for a place that will give you all four seasons of the year, then Virginia is your place. There are countless fun things to do throughout the year, day trips to the beach, mountain hikes, fabulous restaurant scene, local stores, historic landmarks, and so much more!
What are the best road trips to take in Virginia? 
Virginia is a beautiful state full of natural wonder. From mountainous regions and lush forests to quaint small towns, all of which make Virginia a perfect place for road trips. For stunning views of the mountains of Virginia, cruise along Skyline Drive. Moving through Shenandoah National Park, the 106-mile journey provides over 70 overlooks that are perfect for savoring the pristine Shenandoah Valley. Another terrific option is the Scenic Route 211 Wine Trail, perfect for all the wine lovers out there! Looking for more road trip options in Virginia? Check out the 8 must-take road trips in Virginia.