The Oldest Covered Bridge In Virginia Has Been Around Since 1857
There's something alluring about covered bridges. Virginia is home to a handful of these remarkable structures, which have a way of taking us back in time to the days of yore. That's especially true of Humpback Covered Bridge in Covington, Virginia, which was originally built in 1857 and is consequently the oldest covered bridge in Virginia. Of course, the bridge has been repurposed several times since, yet it stands as a tribute to history. Here's more on why you'll want to visit this remarkable historic site in Virginia.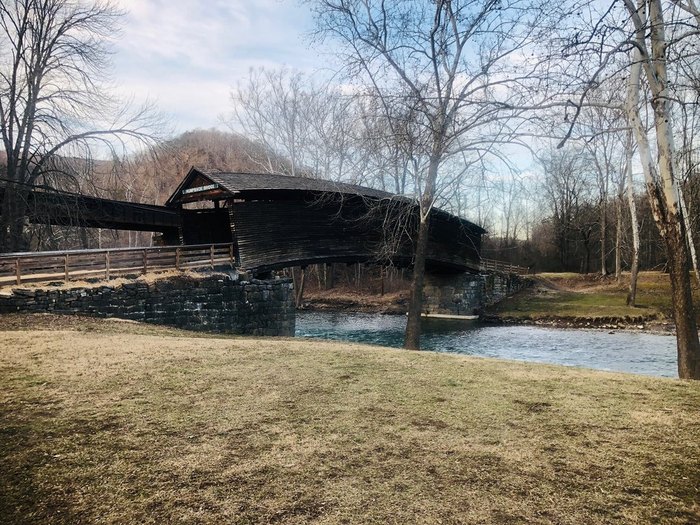 What are your thoughts on Humpback Bridge in Covington? Have you visited the oldest covered bridge in Virginia? If so, we'd love to hear all about it! For more information, you can refer to the Virginia Department of Transportation's website. You might also enjoy reading about Virginia's famous swinging bridge that promises an adventure.
OnlyInYourState may earn compensation through affiliate links in this article.
More to Explore
Oldest Covered Bridge In Virginia
What are the most famous bridges in Virginia?
To tour Virginia's famous bridges is to experience a lesson in fascinating architecture. From swinging bridges to footbridges, bridge-tunnels, and covered bridges, Virginia has no shortage of these fascinating structures. One of the most famous bridges in Virginia is High Bridge near Farmington, Virginia. In the 1850s, this bridge served as a train route for South Side Railroad, which ran between Lynchburg and Petersburg. The route required a crossing of the Appomattox River, and thus the bridge was built. Today, the bridge is the crown jewel of High Bridge Trail State Park, and visitors from around the state enjoy the opportunity to walk across it and admire the view of the water below. You can learn all about why High Bridge Trail State Park is one of the most loved ones in Virginia.
What are the oldest attractions in Virginia?
The state of Virginia is among the oldest in the United States, and therefore it houses an impressive variety of historic attractions. Among the oldest attractions in Virginia is the Jamestown Church. The history of this structure is equal parts fascinating and alluring, given that it burned down so many different times throughout its history. Today, all that remains from one of the church's earliest periods are the foundation and the tower, which were both finished by 1647. Another historic attraction in Virginia is Bacon's Castle, which played a role in the famous Bacon's Rebellion. This home in Surry, Virginia was built in 1665 and is actually not a castle at all. Learn more about the history of this fascinating Virginia building. (Spoiler alert: it's rumored to be haunted!)
What are the best manmade attractions in Virginia?
Since we're on the topic of bridges, the Chesapeake Bay Bridge-Tunnel is certainly worth mentioning. Plus, it very well may be the best manmade attraction in Virginia. Upon its creation in April of 1964, the bridge was considered to be an incredible feat in engineering. The Chesapeake Bay Bridge-Tunnel connects the Tidewater region of Virginia to the Delmarva Peninsula and Eastern Shore and is over 17 miles long. Those who have journeyed across this passage will likely never forget the adventure of going above and then under the water. By the time it was completed, the project of building the bridge cost over $200 million! Travel time takes approximately 25 minutes. If you've never experienced the bridge-tunnel, it's an adventure that belongs on your bucket list.
Related Articles
Explore Virginia
Featured Addresses

Humpback Bridge, Midland Trail, Covington, VA 24426, USA