Here Are The Best Times And Places To View Fall Foliage In Virginia
Believe it or not, fall is swiftly on its way to the great state of Virginia. And with it comes one of our favorite outdoor past times: admiring the gorgeous fall foliage. Beautiful in all seasons, the Old Dominion has a way of becoming positively enchanting with the onslaught of oranges, golds, reds, and yellows that signify autumn. True fall leaf aficionados will agree that it's never too early to start planning road trips, hikes, and other excursions. With that in mind, we've discovered an interactive map courtesy of the folks at Smoky Mountains. According to this year's fall foliage map for Virginia, here's what we can expect: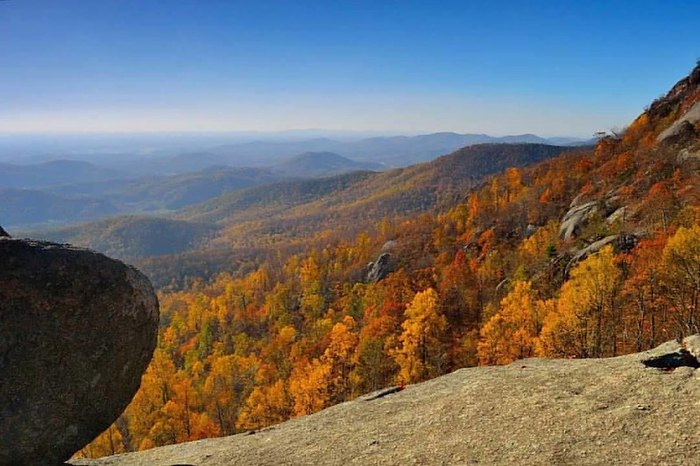 To view the full map, visit the official Smoky Mountains website. Looking for more autumn inspiration? Be sure to read about this gorgeous fall foliage train ride through Virginia!
Fall foliage map for Virginia
September 19, 2022
What's the best fall drive in Virginia?
Located in the eastern U.S., the Blue Ridge Mountains are a portion of the Appalachian range that spans from Pennsylvania to Georgia. While the entire range is lovely, the stretch through North Carolina and Virginia is positively perfect; and in fact, both states' portions of the Appalachians have been named among U.S. News & World Report's 50 Most Beautiful Places in the World. One only needs to venture out along the Blue Ridge Parkway in the autumn to understand the true splendor of the landscape. The Blue Ridge Parkway runs 469 miles through Virginia and North Carolina, with plenty of places to stop and soak up the local color … literally and figuratively! This beautiful byway is, in fact, known as one of the most scenic fall drives in the entire country.
What's a fun fall day trip in Virginia?
When the landscape of the Old Dominion is awash in color, day trips are extra special, as the journeys to these places truly are as marvelous as the destinations. And with its cheerful red door and green-and-white striped awning, Floyd Country Store is a gem of a destination in the Blue Ridge Mountains that's super fun to visit in the fall. Floyd's Country Store has existed for over a century. In 1910, a business by the name of Farmer's Supply opened its doors, and the building has been serving residents and visitors alike ever since. A delightful time warp, inside the shop, barrels of old-fashioned candy will take you back to simpler days, while the bakery counter will tempt your taste buds. If you have a bit more time, be sure to settle in for a made-to-order sandwich, which will surely hit the spot. And while Floyd's is famous for its charm and history, it's the Friday Night Jamboree that really puts this place on the map. The Jamboree is a musical tradition that has stood the test of time. Local and regional musicians perform on the store's historic stage from 6:30 until 10 p.m., and all are invited to dance and sing along, partaking in a delightful piece of Virginia history.
Another charming fall day trip in Virginia is Humpback Covered Bridge. When you reach the center of Humpback Covered Bridge, you might notice an unusual arc shape in the structure. Built in 1857, the site is Virginia's oldest still-standing covered bridge and a favorite site for photographers and outdoor enthusiasts alike — especially when surrounded by fall colors!