7 Out-Of-This World Hikes In Virginia That Lead To Fairytale Foot Bridges
In case you haven't noticed, we're pretty enthusiastic about bridges here in Virginia. Whether we're admiring an utterly picturesque covered bridge from the 19th century or testing our fear of heights at High Bridge State Park, we're grateful for the various functions they serve. That's especially true when it comes to footbridges along hiking trails. These fairytale-like structures are mostly for helping us cross streams and rivers, yet there's something truly magical about them. Check out the following out-of-this-world hikes that will lead you across fairytale footbridges. In our opinion, these are some of the very best hikes in Virginia.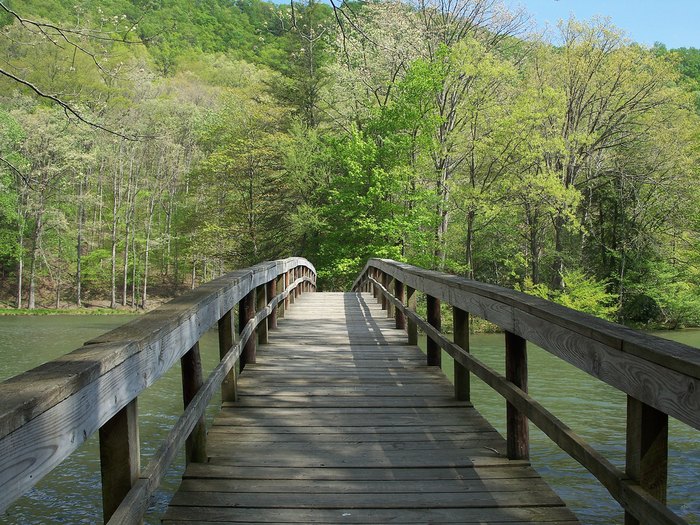 What are your thoughts on these gorgeous footbridge trails? Which have you experienced for yourself? We'd love to hear from you! For more of the best hikes in Virginia, check out this list of short-and-sweet trails to add to your outdoor bucket list.
OnlyInYourState may earn compensation through affiliate links in this article.
best hikes in Virginia
March 30, 2022
What's the longest bridge in Virginia?
Now that you've learned about some of our favorite footbridges in Virginia, it's time to take a look at the other impressive crossings you'll find throughout the state. The title of the longest bridge in Virginia goes to the iconic Chesapeake Bay Bridge-Tunnel. This impressive structure measures 17.6 miles and crosses over and under the mouth of the Chesapeake Bay. If you've ever driven this famous bridge-tunnel, you can attest to the fact that it's not for the faint of heart!
Does Virginia have any haunted bridges?
There are so many bridges in Virginia that you may not be surprised to learn that a few of them are rumored to be haunted. The most notoriously haunted bridge in Virginia is known as the Bunny Man Bridge, and it's located in Clifton. Let's just say you won't want to visit this terrifying bridge in Virginia at night... or alone.
What is the most scenic hike in Virginia?
That's a tough question! Virginia is filled with beautiful scenery, so any hike you take is bound to impress you in one way or another. Of course, many would argue that McAfee Knob is the most scenic hike in Virginia. After all, it's the most photographed spot on the Appalachian Trail. If ever you get to hike this trail in person, you'll understand why it's so magical.