These 16 Destinations In Virginia Will Change Your Idea Of Vacation Forever
We all need to get away now and then. Whether it's for a proper holiday, a romantic getaway, or just a weekend escape, there's nothing like a special retreat. These 16 vacation spots in Virginia offer just the escape you're looking for. Ranging from high-end luxury resorts to mountain cabins, these hotels, bed and breakfasts, and cabin rentals are guaranteed to make your stay a memorable one.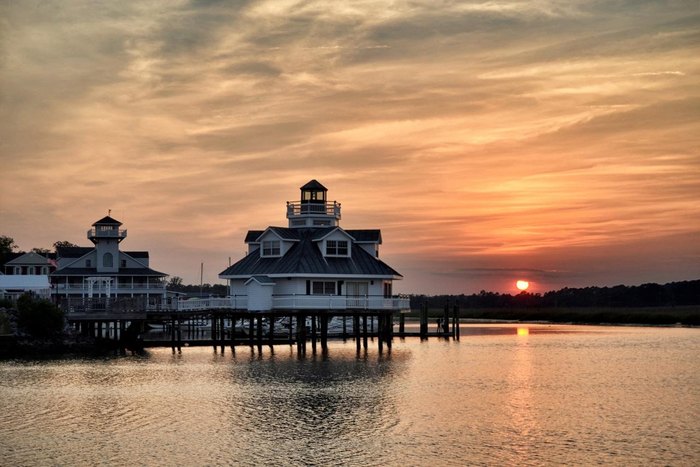 It's never too early to start planning your next getaway — and these vacation spots in Virginia are the perfect place to start. Be sure to tell us if you've ever stayed at any of these incredible Virginia destinations — or tell us about any unique, unusual, or just simply amazing places you like to stay!
OnlyInYourState may earn compensation through affiliate links in this article. As an Amazon Associate, we earn from qualifying purchases.
More to Explore
vacation spots in Virginia
What's the most beautiful hotel in Virginia?
As you might have guessed from the above article outlining the most unique vacation spots in Virginia, the Old Dominion is blessed with an abundance of beautiful hotels. Among the most famous of them is the Jefferson Hotel in Richmond, Virginia. Built in 1895, this landmark of a hotel is considered to be among the most luxurious in Virginia and perhaps the entire country. According to the website, it's here that you'll find guestrooms that are "reminiscent of an upscale downtown apartment right down to the doorbell." It's the kind of place where guests will love appreciating all the fine details that have gone into the making of this hotel. Plus, there are some truly bizarre stories to go along with them. Did you know, for example, that there used to be a pool of alligators at the Jefferson Hotel?
Does Virginia have any haunted hotels?
It may not surprise you to learn that some of Virginia's most historic hotels are also haunted. One prime example is the Cavalier Hotel in Virginia Beach. Among the most famous places inside the hotel is the sixth floor. The founder of Coors Brewing Company was discovered dead inside his room in 1929 and ever since there have been reports of mysterious paranormal activity. Some of these incidents include unexplainable cold spots, windows opening in the middle of the night, and even the sound of disembodied voices. Yikes!
Where can I vacation in the Virginia mountains? 
If you're looking for unique things to do in Virginia, there are few places more beautiful than the Virginia mountains. Whether you're interested in camping or a luxurious getaway, you'll find that there are plenty of accommodations that will allow for a memorable vacation in the Virginia mountains. One must-try places is the Omni Homestead Resort. As mentioned in the article above, it's one of the most unique places to stay in Virginia. Not only does the Homestead offer a fascinating history, but it also features healing hot springs, after which the town of Hot Springs is named. So whether you're looking for outdoor adventure or a healing, rejuvenating vacation, you'll love your time spent at the Omni Homestead Resort.
Related Articles
Featured Addresses

Smithfield Station, 409 S Church St, Smithfield, VA 23430, USA

107 E Main St, Marion, VA 24354, USA

16441 Booker T Washington Hwy, Moneta, VA 24121, USA

The Omni Homestead Resort, 7696 Sam Snead Hwy, Hot Springs, VA 24445, USA

1312 Commerce St, Lynchburg, VA 24504, USA

4621 Busted Rock Rd, Meadows of Dan, VA 24120, USA

Stanardsville, VA 22973, USA

3002, 116 S Alfred St #101, Alexandria, VA 22314, USA

The Martha Washington Inn & Spa, 150 W Main St A, Abingdon, VA 24210, USA

3879 Eakin Farm Road, Blacksburg, VA 24060, USA

Hope and Glory Inn, 65 Tavern Rd, Irvington, VA 22480, USA

403 Tazewell Ave, Cape Charles, VA 23310, USA

The Inn at Tabbs Creek, 384 Turpin Ln, Port Haywood, VA 23138, USA

Paint Bank, VA 24131, USA

352 Tye River Turnpike, Vesuvius, VA 24483, USA