Take This Unforgettable Road Trip To Experience Some Of Virginia's Most Impressive Caverns And Waterfalls
Virginia has no shortage of breathtaking natural wonders. Ask native Virginians what the most impressive natural wonder in our state is, and they'll likely respond with either a waterfall or a cavern. If you're always searching "waterfalls near me," you'll be thrilled by all that Virginia has to offer!
That's the inspiration behind today's road trip: a drive that will showcase some of the most iconic caverns and best waterfall hikes in Virginia. The drive itself is approximately six hours, so it's best to spread out over a few days or a long weekend. Along the way, you can look forward to beautiful scenery and the chance to admire some of our state's most beloved natural wonders. Happy exploring!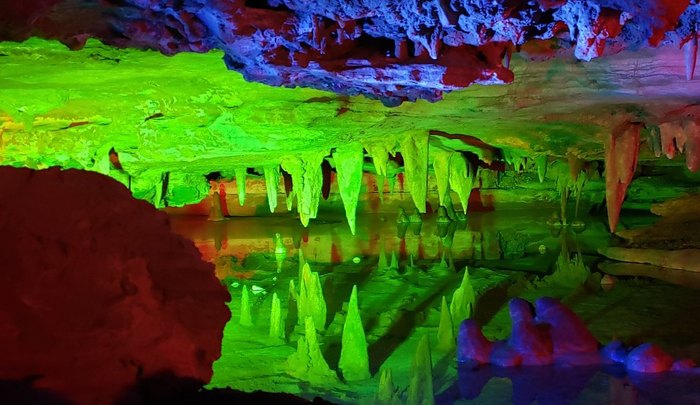 What are your thoughts on this epic road trip to some of Virginia's coolest attractions? Who would you take with you on your adventure? Be sure to share with us in the comments!
Love waterfalls but could skip the caves? Then check out this incredible road trip to the tallest waterfalls in Virginia.
OnlyInYourState may earn compensation through affiliate links in this article.
Waterfalls Near Me
April 04, 2022
What are the best family-friendly hikes in Virginia?
One of the best family-friendly hikes in Virginia is Backbone Trail in York River State Park. Running 3.8 miles out near Williamsburg, Virginia, it usually only takes about an hour and a half to walk. The shorter length of time makes this trail an excellent choice if you're with the whole family. You can also include the furry members of your family here. Dogs are allowed here as long as they are leashed. You can also ride a horse on the trail, or get in some time on your mountain bike.
What are the most beautiful lakes in Virginia?
The most beautiful lakes in Virginia include Smith Mountain Lake and Lake Anna. Smith Mountain Lake State Park is the home to the former and is found in Huddleston, Virginia. It's definitely worth renting a cabin or a campsite to stay in while you're there because you won't want to leave once you see it! Lake Anna is another great idea for your outdoors trip, particularly if you're a fan of picnics. This is an ideal spot for lake swimming as well.
Are there any good swimming holes in Virginia?
Shernado Lake is a great spot if you're looking for a fun swimming hole in Virginia. It's also unique in that it is one of the only swimming holes in Virginia that also has a nice sandy beach. You'll feel like you're by the ocean without having to go all the way there.