There's A Magical Sunflower Field Tucked Away In Beautiful Virginia
Few things symbolize summer in Virginia quite like the array of blooms that decorate the landscape this time of year. Whether it's a wildflower-studded hiking trail or a breathtaking garden, there's no shortage of opportunities to admire these natural beauties. In fact, Virginia is home to a massive sunflower field that relatively few know about. Here's more on this patch of sunshine awaiting at Burnside Farms in Haymarket, and it might just be the most beautiful sunflower field in Virginia.
Let's take a look: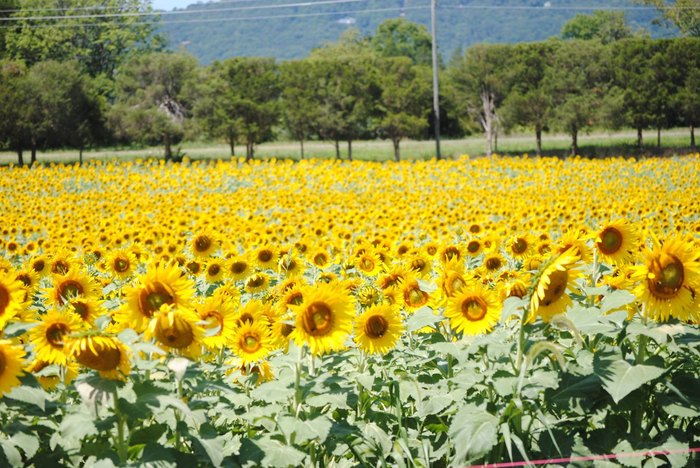 For a glimpse into these magical sunflower fields, watch the brief video below, courtesy of YouTuber Hope Knudson:
To keep track of the Sunflower Season Field Report, be sure to visit the Burnside Farms website. Have you participated in this event before? Feel free to share your experiences! If you're looking for something equally enchanting to do while you wait for the sunflowers to bloom, read about The Magical Place In Virginia That Makes You Feel Like You've Stepped Through A Wardrobe.
We're always on the hunt for those Virginian hidden gems. If you know about a unique attraction, local restaurant, or beautiful hiking trail that you think we should feature, nominate it here!
OnlyInYourState may earn compensation through affiliate links in this article.
Address: Burnside Farms, Mechanicsville, VA 23116, USA
sunflower field in Virginia
April 14, 2020
Are there any other flowering fields in Virginia?
During spring and leading into the summer months, Virginia comes alive with fields of flowers that add a dazzling pop of color to this beautiful state. Fields of Flowers in Purcellville is a pick-your-own flower farm, and depending on the time of year, you could pick your own zinnias, marigolds, sunflowers, lavender, and more. Richmond's Lewis Ginter Botanical Garden features more than 25 acres of lush gardens, and Colonial Williamsburg offers a massive 100-acres of beautiful landscaping, including a labyrinth of 90 gardens.
What are the most beautiful places in Virginia?
Virginia is chock-full of natural beauty just waiting to be explored. Sweeping mountain views, wild horses, and rugged landscapes await you at the Grayson Highlands State Park in southwestern Virginia, but if you'd prefer to check out the views from the comfort of your car, Skyline Drive is the answer. This scenic road will take you through Shenandoah National Park and offers some incredibly beautiful panoramic views. And for those that prefer the beach, Assateague Island National Seashore is an enchanting hidden gem with a beautiful shoreline, an iconic lighthouse, and even more wild ponies.
Where should I go to see things in nature in Virginia?
Virginia is a nature lover's paradise. Whether you yearn for the panoramic mountain views or a sunset on the beach, Virginia has got your covered. One of the most incredible hidden gems in the state can be sound near Fort Blackmore, and that's the Devil's Bathtub, a beautiful swimming spot with crystal blue waters. Another magnificent nature spot is the Thomas Walker Civic Park which is near the border of Kentucky and Virginia. This hidden gem is filled with lovely hiking trails with tri-state views and a hauntingly beautiful cave that's perfect for the outdoor explorer.