Climb 183 Steps To The Top Of Birch Knob Tower In Virginia And You Can See All The Way To Ohio
It's not every day that you can enjoy a view of six states at once. But that's the allure of Birch Knob Observation Tower, a beautiful landmark in Virginia where those who are brave enough to climb 183 steps will get the view of a lifetime. Located in Dickenson County, Birch Knob Tower is typically open from spring until fall. Here's more on why you just might consider climbing nearly 200 steps on what's bound to be an unforgettable adventure.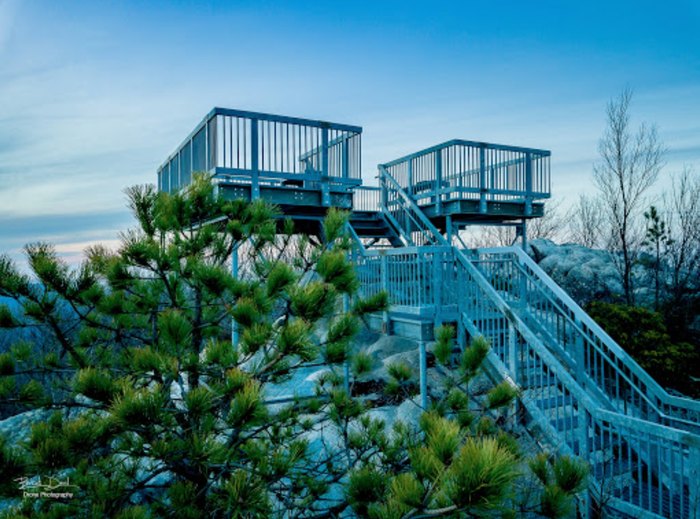 No matter what motivates you to climb this iconic landmark, you'll feel like a true pioneer once you arrive at the top. Have you experienced the view from the top of Birch Knob Tower in Virginia? If so, be sure to share your adventure with us in the comments below! For more information about the observation tower and its history, visit the Birch Knob Tower website.
OnlyInYourState may earn compensation through affiliate links in this article.
Address: Birch Knob Observation Tower, Birch Knob Dr, Clintwood, VA 24228, USA
Things To Do In Virginia
October 27, 2020
Which hikes in Virginia have the best views?
The hikes in Virginia with the best views are:
Channels in Lebanon
Dragon's Tooth near Roanoke
Old Rag near Sperry
Bearfence Mountain near Elkton
One of the best parts about hiking in Virginia, especially if you're in the mountains, is the opportunity to enjoy views for as far as the eye can see. If you're looking for a hike that guarantees amazing scenery, there are a few trails that belong on your radar. Some of these hikes include High Knob Tower in Norton, the Channels in Lebanon, Dragon's Tooth near Roanoke, Old Rag near Sperry, Bearfence Mountain near Elkton, Blackrock Summit near Waynesboro, Flat Top near Bedford, Humpback Rocks near Waynesboro, White Rocks near Ewing, Stone Mountain near Troutdale, Comers Rock near Speedwell, and Chesnut Ridge near Bland. Happy hiking!
What is the tallest point in Virginia?
The tallest point in Virginia is Mount Rogers, which is located in the Mount Rogers National Recreational Area and accessible via Grayson Highlands State Park. Mount Rogers has a summit elevation of 5,729 feet and is named for William Barton Rogers, who was the first State Geologist of Virginia. The summit is featured on the Appalachian Trail and is a popular destination among hikers. At such high altitude, you'll find a forest of red spruce and Fraser fir, which can only be seen in select locations throughout the U.S., such as the Great Balsam Mountains, Grandfather Mountain, and Roan Mountain. For more information, be sure to read our article about Mount Rogers and Grayson Highlands State Park.
Does Virginia have any natural wonders?
Virginia has so many natural wonders! Whether you're exploring the Eastern Shore or the rugged mountains, you're bound to discover at least a few hidden gems and natural wonders. Some of the most famous natural wonders in Virginia include Crabtree Falls, Natural Bridge, Skyline Drive, Luray Caverns, Natural Chimneys, Great Falls Park, Natural Tunnel, Breaks Interstate Park, Burke's Garden in Tazewell County, and the Great Dismal Swamp. How many of these natural wonders in Virginia have you explored? To learn more, you can read about them in our previous article: Here Are The 12 Most Incredible Natural Wonders In Virginia.
OnlyInYourState may earn compensation through affiliate links in this article.
Address: Birch Knob Observation Tower, Birch Knob Dr, Clintwood, VA 24228, USA