The Terrifying Vermont Road Trip That Will Surely Haunt Your Dreams
Are you ready for a Vermont road trip that is so ghostly, so sinister, and so creepy that it will keep you awake at night?  Well, look no further – this is a trip that has paranormal activity that could make a believer out of the biggest skeptic.  We've even mapped out a course of the most haunted places in Vermont for you!
Even if you've lived in Vermont your whole life, there is a good chance you haven't seen it in its entirety, and this trip will certainly take you off the beaten path.  By going on a road trip, you're giving yourself an opportunity to see all of Vermont – the beautiful, the surreal, and the "wow, I can't believe this place actually exists!"  So grab your fellow Ghostbusters, make a playlist and set out on a wild ride that, in just 6 1/2 hours driving time, will take you to the most haunted places in Vermont that will have your knees knocking.  That is, if you dare….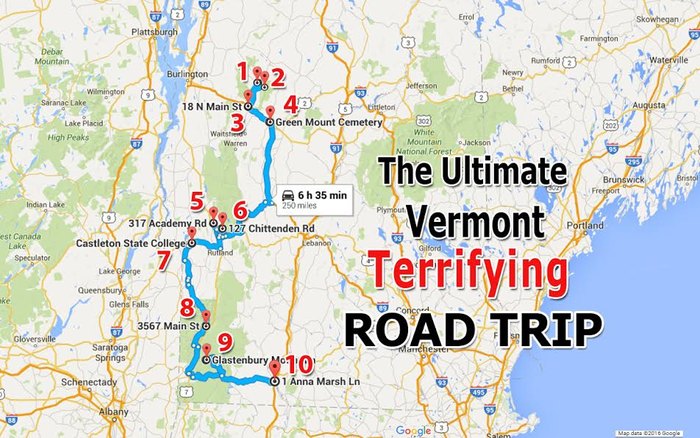 Are you prepared to go on this haunted road trip in Vermont? Do you think that these are the most haunted places in Vermont? With all the rich history and paranormal tales in Vermont, this North/South trip is just one of the many routes to explore.  Let us know if you'd like a Burlington/Northern Vermont/North East Kingdom haunted road trip.  Who says ghost hunts are only for Halloween?
Do you know of any paranormal spots?  Tell us about them on our Nominations Page or leave a comment and share your Vermont ghost stories and eerie places with us.
OnlyInYourState may earn compensation through affiliate links in this article. As an Amazon Associate, we earn from qualifying purchases.
More to Explore
most haunted places in Vermont
What are the best road trips in Vermont?
Vermont, known for the spectacular Green Mountains, pristine lakes and rivers, and twisting and winding roads, has many tremendous road trip options throughout the state. Vermont Route 100 is considered to be one of the most scenic routes in all of Vermont. This route will take you through the picturesque towns of Stockbridge, Warren, Waterbury, and Stowe. Another beautiful mini road trip is the two-hour drive through the Notch of Mt. Mansfield along Vermont Route 108 from Stowe to Jeffersonville.
What is the most scenic town in Vermont?
This question is too difficult to answer to just name one town. Instead, we will recommend three unbelievably scenic towns. 1. Woodstock. This town is full of beautiful and charming townhouses and picturesque views of the Vermont landscape. 2. Grafton. From the historic buildings to the serene and pleasant farmlands, Grafton is one of the most bucolic towns in all of Vermont.  3. Shelburne. With stunning views of Mt. Mansfield and Camel's Hump and access to Lake Champlain, Shelburne has to be on any list of most scenic towns in Vermont.
Can I visit any abandoned places in Vermont?
Indeed you can, but it depends on the area and attraction. Not all abandoned places in Vermont can be visited. For some places, it will not be safe for entering, but you can still get a view of these places from the outside. Other places, however, you will be able to enter and wander about. We encourage you to check out this article here where you will learn about a scary road trip that will lead you to some pretty creepy abandoned places in Vermont. before visiting abandoned places, make sure you are being safe and responsible. Time to start exploring!
Related Articles
Explore Vermont
Featured Addresses

Green Mountain Inn, 18 Main St, Stowe, VT 05672, USA

Gold Brook Covered Bridge, Covered Bridge Rd, Stowe, VT 05672, USA

The Old Stagecoach Inn, 18 N Main St, Waterbury Village Historic District, VT 05676, USA

Green Mount Cemetery, 250 State St, Montpelier, VT 05602, USA

127 Chittenden Rd, Chittenden, VT 05701, USA

62 Alumni Dr, Castleton, VT 05735, USA

317 Academy Rd, Pittsford, VT 05763, USA

Equinox Golf Resort & Spa, 3567 Main St, Manchester, VT 05254, USA

Retreat Tower, Reservoir Loop, Brattleboro, VT 05301, USA

Glastenbury Mountain, Glastenbury, VT 05262, USA