One Of The Coldest Places In America Is Right Here In Vermont
By now you're probably used to enjoying our colorful Vermont autumns, which are among the most beautiful fall colors in the country. It's easy to be mesmerized by all that red and gold foliage and forget that it's really a sign that winter is on its way. And boy oh boy, is Vermont weather in winter something else.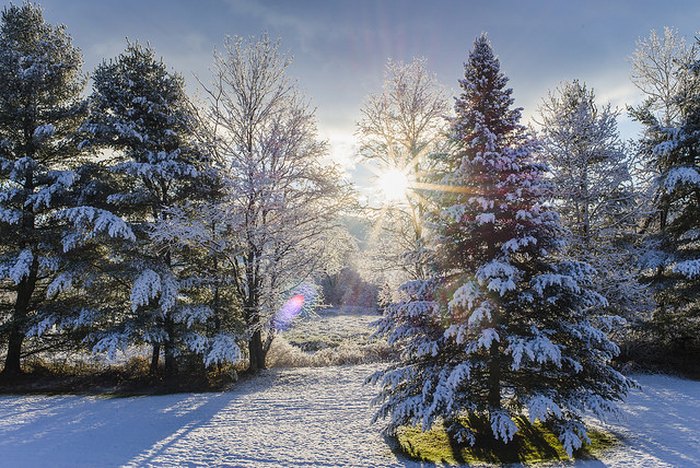 Even though Vermont's winters are no joke, and you should always be prepared, you have to admit there's a lot of natural beauty in Vermont to be found, even during the coldest of seasons.
How do you handle living in the country's seventh-coldest state?
OnlyInYourState may earn compensation through affiliate links in this article. As an Amazon Associate, we earn from qualifying purchases.
More to Explore
Vermont Weather
What is the weather in Vermont like?  
Vermont has what's called a wet continental climate, where the winters are chilly, summers are warm but not overly hot, and there is precipitation year-round. The average highs in winter in Vermont tend to reach 22-25 degrees, and the lows typically dip down to just two degrees! The highs during summer in Vermont, however, are much milder, with highs in the mid-70s and lows in the 50s. It rains, snows, and endures the occasional ice storm; some ice storms in Vermont have made history, though thankfully, they're not super common.  
What was the coldest temperature in Vermont historically?  
Hang on to your (nice, warm) hats, because this is amazing. The lowest recorded temperature in Vermont occurred during the winter of 1933-1934 when temps plunged to as low as –50 degrees Fahrenheit. This happened in the town of Bloomfield on December 30, 1933, and it still hasn't been forgotten. At temperatures that low, your breath can literally freeze, and exposed skin can become frostbitten within minutes. Usually, though, winter in Vermont isn't all that bad; as we said above, the average daytime highs this time of year tend to reach 25 degrees or so. It's cold, yes – but not bitterly so.  
How cold is Vermont?  
All in all, Vermont is the seventh-coldest state in the United States. Lots of folks might think it ought to be closer to the top, but nope! Other states are known to be colder (sometimes MUCH colder) than Vermont include Alaska, which regularly sees lows in the –50s, North Dakota, where the average temperature in January is anywhere from 2 to 17 degrees, and Minnesota, whose winter temps can plunge as low as the –30s. Other chilly places in the United States include Maine, Wyoming, and Montana. Wisconsin, Idaho, and New Hampshire are also in the top ten! Don't get us wrong though – there are lots of fun things to do in Vermont during winter.  
Related Articles