Take This Unforgettable Road Trip To Experience Some Of Vermont's Most Impressive Caves And Waterfalls
Since caves and waterfalls are some of the many natural wonders that make Vermont so beautiful, how about planning a day out to explore a few caves in Vermont for your next adventure in the Green Mountain State? To make it easy, the following road trip itinerary was put together. As you'll see, this gorgeous road trip begins and ends with checking out some of the most popular caves in Vermont. In the middle of this scenic road trip in Vermont, you'll also have time to stop and appreciate a few of our favorite waterfalls in Vermont too.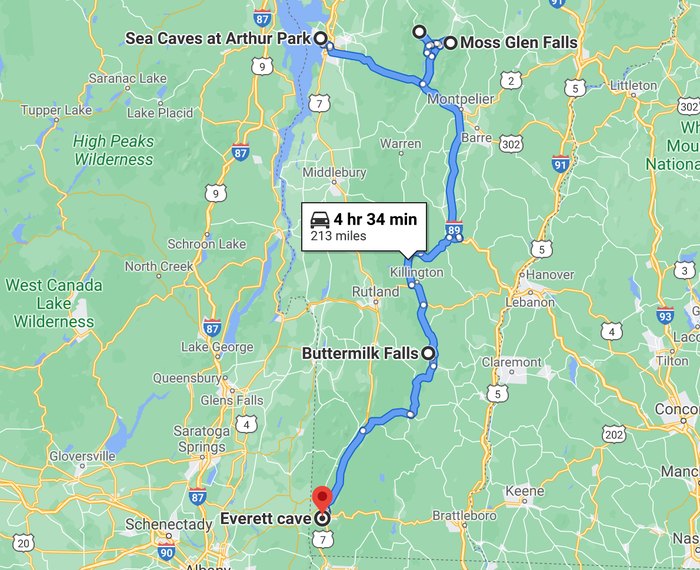 Have you visited any of these gorgeous caves (or waterfalls) in Vermont? Do you have any tips on how others can make the most of their experience?
Aside from some absolutely beautiful natural wonders, there's so much more to explore in our state. Check out these road trip ideas for more Vermont travel inspo.
OnlyInYourState may earn compensation through affiliate links in this article.
More to Explore
Caves in Vermont & Related Info
Does Vermont have any caves?
While the state's underground natural wonders don't get as much attention as its spectacular waterfalls, fall foliage, and mountaintop vistas, Vermont is home to around two dozen known caves, although a few are open to recreational spelunking due to the risk of spreading White Nose Syndrome. Each cave in Vermont is home to its own unique ecosystem, in which vulnerable bat populations play a major role. Just a few of the caves in Vermont are:
Aeolus Cave
Bear Bones Cave
Chimney Cave
Cliff Hole Cave
Donahue Sea Caves
Johnston Cave
Milton Gorge & Mill Pond Caves
Morris Cave
Tallow Cave
The Vermonster Cave System
Windy River Cave
What is the biggest cave in Vermont?
Weybridge Cave State Park is home to the largest cave in Vermont. The Weybridge Cave Natural Area is over one acre in size, and is actually home to the second-largest single cave in the New England region. In terms of depth, Morris Cave in Danby is officially the deepest cave in the state and contains over 1800 feet of Colombian marble cave passages.
What are some of the prettiest waterfalls in Vermont?
Vermont is known for its spectacular scenery, especially in winter. But spring in Vermont offers its own set of rewards, as the state's waterfalls reach peak flow. Just a few of the prettiest waterfalls in Vermont are:
Related Articles