The Magnificent Bridge Trail In Vermont That Will Lead You To A Hidden Overlook
If you are looking for a great hike to take, try out the Clarendon Gorge Appalacian Trailhead via the Long Trail. With a suspension bridge and hidden views of the Clarendon Gorge in Vermont, this trail will quench your thirst for adventurous hiking. Located in southern Vermont, not far from Rutland, the Clarendon Gorge trail is a 14.6-mile loop and is considered to be on the difficult side. But, if you just want to see the gorge and cross the suspension bridge, that is also possible; Clarendon Gorge and the bridge are accessible via VT Route 103. For the best trail conditions, hike between April – September. But if you are eager to take this hike now, the snow-filled gorge will also be eye-catching. Either way, you cannot go wrong.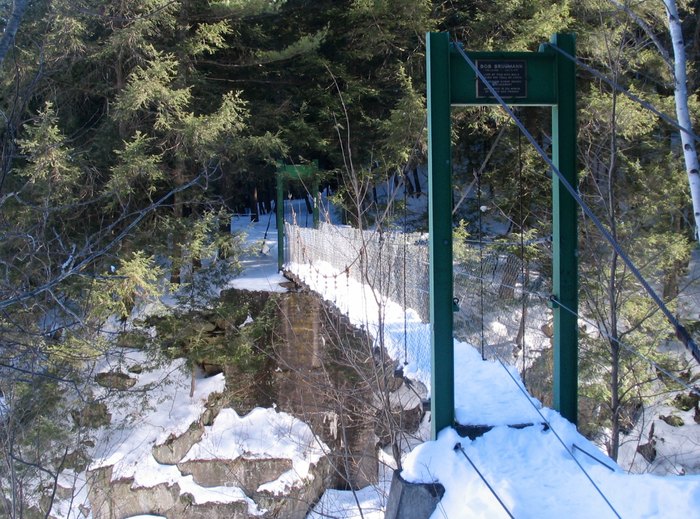 The Clarendon Gorge Appalachian Trailhead is a wonderful hike with plenty of fascinating views and landscapes. Crossing the suspension bridge is a fun element to the trail that most hikes do not have.
Who has done this hike and crossed the suspension bridge? What were your experiences? What do you think are the best hiking trails in Vermont? Leave a comment and let us know. We love to hear from you.
OnlyInYourState may earn compensation through affiliate links in this article.
Address: 2000 VT-103, Shrewsbury, VT 05738, USA
Clarendon Gorge in Vermont
November 27, 2020
What are the most beautiful hikes in Vermont?
VT may be small but it's practically impossible to run out of amazing hikes. One of the most scenic hikes in Vermont is the hike up Mt. Mansfield, which provides some of the most spectacular views in our state. If you are interested in hiking Mt. Mansfield, we highly recommend taking the Sunset Ridge Trail; the trail is easily accessible from Underhill State Park and is well marked. Some other beautiful hikes in Vermont are 1. Mount Pisgah Trail, 2. Camel's Hump Trail, and 3. Lye Brook Falls Trail. Happy hiking!
What is the most scenic town in Vermont?
Answering this question is really challenging, for there are just so many scenic towns in Vermont. Attempting to answer this question will assuredly lead to disappointing some while gratifying others. But with that being said, here are the five most scenic towns in Vermont: 1. Manchester; 2. Woodstock; 3. Grafton; 4. Stowe; 5. Shelburne. Of course, there are many other scenic and worthy towns to visit. If you are still interested in finding more picturesque towns in Vermont, check out the 17 most picturesque towns in Vermont.
What are the best road trips in Vermont?
Vermont has loads of amazing backroads and stunning winding roads through the countryside to explore. Sometimes the best option is just to hop in the car and set off. But if you want some more direction, here's our list for the best road trips in Vermont. If you are looking for the best mini road trip in Vermont, the two-hour drive through the Notch of Mt. Mansfield along Vermont Route 108 from Stowe to Jeffersonville is perfect, and it may just be the most beautiful drive in all of Vermont. And during fall foliage, you simply cannot find a better viewing place.