You Won't Want To Miss These Incredible Fireworks Shows In Utah This Year
The Fourth of July is right around the corner, and that means it's time to find a fireworks display near you. Is there anything better than snuggling up on a blanket while watching vibrant pyrotechnics, synchronized to patriotic music? We think not! In 2015 and in 2016, we compiled a list of fireworks displays across the state, and we've made a brand new list for 2017. Grab your lawn chairs, coolers and blankets and get ready to make some great memories.
We've featured five of the biggest celebrations below; you'll find a complete list of all community fireworks displays underneath.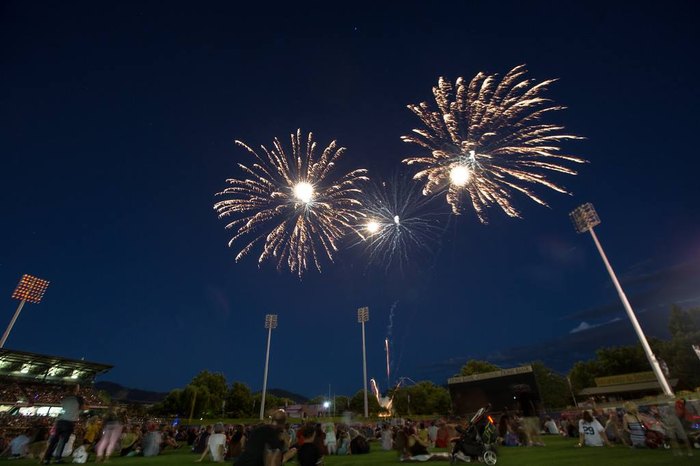 Here's a list of other fireworks displays throughout the state:
Beaver County
Greenville, July 4th, fireworks at dusk, five miles west of Beaver City along U-21.
Box Elder County
Brigham City, July 4th, fireworks at dark, Rees Pioneer Park. Concert from 8:00 to 9:30 pm.
Cache County
Hyrum, July 4th, fireworks at dusk, Hyrum City Soccer Fields. Entertainment starts at 8:00 pm.
Davis County
Centerville, July 3rd, 9:45 pm, Founder's Park. Entertainment and children's festivities start earlier in the evening.

Kaysville, July 4th, 10:00 pm, Davis Applied Technology Center.

Layton, July 4th, 10:00 pm, Layton Commons Park. Festivities include a children's carnival and New American Philharmonic Symphony with cannoneers.
Iron County
Brian Head Resort, To Be Determined. Due to the wildfire in the area, the 4th of July celebration at the resort is still tentative.

Cedar City, July 4th, 9:45 pm, Lund Highway and 1600 N. The day also includes a parade and festivities on Main Street.
Kane County
Kanab, July 4th, Fireworks at dusk. Holiday concert in the park by Symphony in the Canyons beforehand.
Rich County
Garden City, July 3rd, 9:00 pm, Ideal Beach Resort. You don't have to stay overnight at the resort to hang out on the grass and enjoy.
Salt Lake County
Magna, July 4th, 10:00 pm, Copper Park. Get there at 8:00 pm for music beforehand.

Murray, July 4th, 10:00 pm, Murray Park Softball Field. Festivities start with a sunrise service and last all day.

North Salt Lake July 3rd, 10:00 pm, Eaglewood Golf Course.

Riverton, July 4th, 10:00 pm, Riverton City Park.

Salt Lake City, July 4th, 10:00 pm, Jordan Park (1060 S. 900 W.). A patriotic neighborhood party on Salt Lake's west side.

Sandy, July 4th, 10:00 pm, 1000 S. Centennial Parkway.

West Jordan, July 4th, 10:00 pm, Veterans Memorial Park. Western Stampede and Independence Day Festival beforehand.
San Juan County
Blanding, July 4th, 10:00 pm, Centennial Park. Get there early for a volleyball tournament, parade, 5k and concert.
Sanpete County
Mt. Pleasant, July 4th, 10:00 pm, Rodeo Grounds. Rodeo starts at 8:00 pm.
Sevier County
Richfield, July 4th, 9:30 pm, West Hills of Richfield.
Summit County
Park City, July 4th, Fireworks at dusk, Park City Resort Base Area.
Tooele County
Grantsville, July 4th, 10:00 pm, Cherry Street Park, next to the high school. Festivities at the park from 1 pm to 5 pm.

Tooele, July 1st, 10:00 pm, Tooele High School Soccer Field.

Tooele, July 4th, fireworks at dusk, Deseret Peak Complex. Enjoy the Bit & Spur rodeo beforehand.
Utah County
Lehi, July 4th, 10:00 pm, Thanksgiving Point. Music, games, prizes and more.
Wasatch County
Midway, July 4th, 10:00 pm, Midway Town Square. Start at 6:00 am with cannon fire, pancake breakfast, artists' exhibits in Town Hall.
Washington County
Saint George, July 4th, Concert starts at 8:00 pm, fireworks at 10:00 pm, Legend Solar Stadium at Dixie State University. Festivities all day long at Saint George Town Square.
Weber County
Huntsville, July 4th, 10:00 pm, Huntsville Town Park.

North Ogden, July 4th, 10:00 pm, Barker Park.

Ogden, June 30th and July 1st, fireworks at dusk, Golden Spike Event Center. Enjoy the Red, White and Blue "Buck Wild" Rough Stock Challenge rodeo both nights, with live entertainment and fireworks afterward.
Which community celebrations are missing here? Give us the details in the comments, and we'll update our list!
OnlyInYourState may earn compensation through affiliate links in this article.