Posted in USA
February 17, 2022
See Wild Horses Roam At Theodore Roosevelt National Park
Is there anything more magical than a band of wild horses? These stunning creatures are typically thought of as domesticated animals, so catching a glimpse of free-roaming horses is a truly unique experience. When you're ready to spot some of America's most beautiful equine creatures, look no further than Theodore Roosevelt National Park in North Dakota.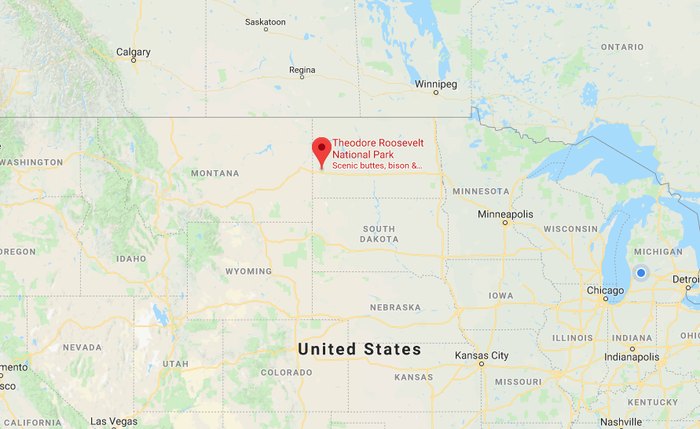 For more information about the horses that call this region of North Dakota home, visit the official NPS.gov website. Guests are advised to exercise caution around these majestic creatures and to avoid feeding or approaching them.
OnlyInYourState may earn compensation through affiliate links in this article.
Address: Theodore Roosevelt National Park, North Dakota, USA
National Park to Visit in North Dakota
February 22, 2022
What are the best state/national parks in North Dakota?  
North Dakota is an amazing state with so much to do, see, and experience that it can be hard to know where exactly to begin. No worries, though – we've got you covered! Some of our favorite state parks in North Dakota – as well as National Parks in North Dakota – include the oh-so-amazing and famous Theodore Roosevelt National Park, which is definitely one of North Dakota's most amazing places. There are so many different kinds of landscapes, from canyons to hills and prairies to petrified forests that we suspect you'll never get bored. Then, there are gems like Little Missouri State Park, which is home to more than 45 miles of awesome trails and places to explore. We also love Fort Abraham Lincoln State Park (which is great for history lovers) and Lake Metigoshe State Park is awesome for a warm-weather outing (though a frozen lake at wintertime is always amazing too). Need more? Check out this list of ten state parks in North Dakota you can't miss.  
What are the best hiking trails in North Dakota? 
Our beautiful state is home to hundreds and hundreds of awesome trails ranging in difficulty from short-n-easy to lengthy-and-tough. Each one is awesome in its own rite; there is, after all, a reason these places were made to have trails. Some of the most popular (and thus arguably "best" as agreed upon by hikers) include several trails within Theodore Roosevelt National Park, like the amazing Caprock Coulee Loop. This trail is 4.4 miles of moderately difficult terrain, but the views are amazing and more than make up for the sweat you'll likely break. We also love Wind Canyon Trail, which is much shorter and easier, coming in at a half-mile long, and the epic Petrified Forest Trail is a great one for those who like long hikes at 10.2 miles long. That one is moderately difficult as well, so plan accordingly. Another trail worth mentioning – though it's in the Turtle River State Park as opposed to TRNP – is the Turtle River Nature Trail, which is 3.6 miles long and rated as moderate.