Posted in USA
January 26, 2022
The One National Park You've Probably Never Heard Of But Need To Visit
Last year, America's national parks received more than 330 million visitors, with places like the Blue Ridge Parkway and Golden Gate National Recreation Area seeing roughly 15 million visitors. With more well-known destinations welcoming millions of adventurers, you may be wondering which national parks are better to visit if you're looking to beat the crowds. Let's head to Congaree National Park in South Carolina to uncover a hidden gem of the National Parks System that only has about 160,000 visitors yearly.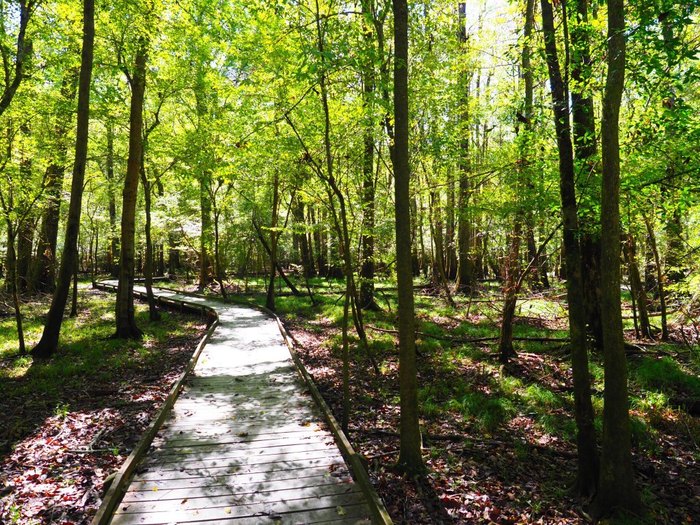 What's your favorite natural getaway in the beautiful state of South Carolina? Tell us all about your picks in the comments.
OnlyInYourState may earn compensation through affiliate links in this article.
Address: Congaree National Park, South Carolina 29061, USA
National Park to Visit in South Carolina
January 30, 2022
What are the best parks in South Carolina for families?  
South Carolina is a wonderful place to raise up a family, and as a result, it's home to lots of wonderful parks with super-awesome places to play for the little ones. Some of our favorites include Gahagan Playground, in Summerville, and Herdklotz Park, in Greenville. Augusta is home to Riverview Park (which is EXACTLY what it sounds like – a park on a river), and in Lexington you'll find the Virginia Hylton Park. For more information about each of these and then some, check out this article for seven wonderful playgrounds that'll make you feel like a kid again yourself. Why let the kids have ALL the fun?  
What are the best hiking trails in Congaree National Park?  
Like we outlined above, Congaree National Park is tragically underrated, and that includes when it comes to hiking, too. It's a large place, but it's got a fairly limited selection of trails – only nine at this time. The ones that are present, however, are truly amazing, and we think you ought to make time to explore them all! The single highest-rated and most-popular trail in Congaree National Park, according to our good friends over at AllTrails.com, is the Boardwalk Loop Trail. It's an interesting trek through an amazingly diverse old-growth forest; the trail is raised nearly six feet off the forest floor. It's two miles of awesomeness and it should be the first one on your to-do list, if you ask us! Next is the unforgettable Weston Lake Loop Trail, which covers almost five miles of beautiful surroundings and occasionally closes during floods, so make sure to double-check that it's open before you head out. There's also the Oakridge Trail, River Trail, Kingsnake Trail, Sims Trail, Bluff Trail... the list goes on. It's endless amounts of fun!