Posted in USA
October 09, 2022
The 14 Best Drive-Thru Christmas Lights Displays In America The Whole Family Can Enjoy
Drive-thru Christmas lights displays are a fun and festive way to celebrate the holidays. They're easy for anyone to enjoy from the comfort of their car, are a blast for kids and adults alike, and often include animated scenes and musical numbers. To top it all off, they're accessible to wheelchair users, keep your health and safety in mind, and YOU control the temperature. All-around magical Christmas events, read on to discover some of the best drive-thru Christmas lights in America to consider visiting this December!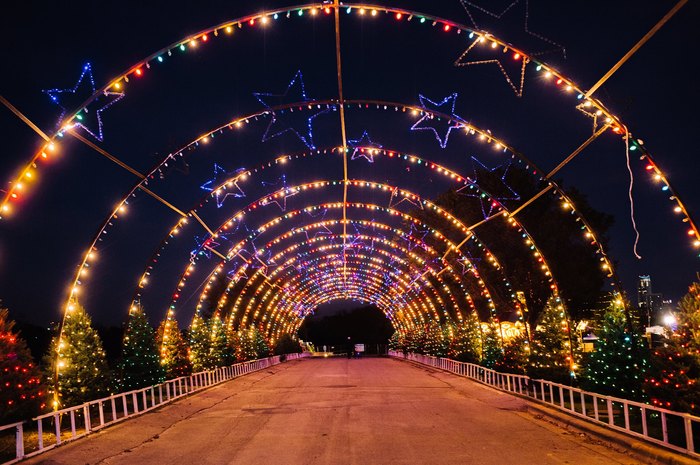 Have you been to any of these amazing drive-through Christmas lights in America before? Are there any others you would add? If you'd like to learn more about any of these Christmas light shows (hours, prices, dates, addresses, etc.), check out the links below.
Trail Of Lights – Austin, Texas
Lights Under Louisville – Louisville, Kentucky
Christmas In Color – Colorado, Utah, Minnesota, California, Idaho
Gardens Aglow – Boothbay, Maine
The Lights Of Christmas – Stanwood, Washington
Butch Bando's Fantasy Of Lights – Delaware, Ohio
World Of Illumination – Tempe & Glendale, Arizona – Marietta, Georgia
Winter Fantasy Of Lights – Upper Sandusky, Ohio
Sweet Lights – Hershey, Pennsylvania
Land Of Lights – Santa Claus, Indiana
Speedway Christmas – Charlotte, North Carolina
Winter Wonderland – Portland, Oregon
Winterfest – Pigeon Forge, Tennessee
OnlyInYourState may earn compensation through affiliate links in this article.
Address: Six Flags Road, Six Flags Rd, Eureka, MO 63025, USA
Address: Six Flags White Water, 250 Cobb Pkwy N, Marietta, GA 30062, USA
Address: Tempe Diablo Stadium, 2200 W Alameda Dr, Tempe, AZ 85282, USA
Address: Utah State Fairpark, 155 1000 W, Salt Lake City, UT 84116, USA
Address: Hurricane Harbor Phoenix, 4243 W Pinnacle Peak Rd, Glendale, AZ 85310, USA
Address: Bastian Agricultural Center | USU Extension, 2100 W 11400 S, South Jordan, UT 84095, USA
Address: Bandimere Speedway, 3051 S Rooney Rd, Morrison, CO 80465, USA
Address: Fairgrounds Access Road, Aurora, CO 80016, USA
Address: Raging Waters Drive, Raging Waters Dr, San Dimas, CA 91773, USA
Address: Valleyfair, 1 Valley Fair Dr, Shakopee, MN 55379, USA
Address: Expo Idaho, 5610 N Glenwood St, Garden City, ID 83714, USA
Address: Dorney Park Road, Dorney Park Rd, Allentown, PA 18104, USA
Address: Cowabunga Bay Water Park, 900 Galleria Dr, Henderson, NV 89011, USA
Best Drive-Thru Christmas Lights In America
October 14, 2022
Where are some other great holiday lights around America?
The Minnesota Bentleyville "Tour of Lights" Christmas display is one of the largest in America. It's a walk-through event with free admission. One of the most unique Christmas lights displays in the country is Lights Under Louisville, a Christmas cave experience in Kentucky!
What are some interesting Christmas traditions around America?
South Carolina's favorite Christmas cookie, surprisingly, is the Peanut Butter Blossom, found by a General Mills study to be the most clicked holiday cookie recipe by South Carolinians. In Mississippi, you can experience America's oldest Christmas tree tradition. In Alaska, the massive "Star on the Mountain" shines throughout the Anchorage area throughout the entire winter season as a sign of hope.
What are the best Christmas small towns in America?
Small-town America has so much to offer but often gets overshadowed. You may discover some of the best Christmas experiences there! For example, Stockbridge, Massachusetts was named the best Christmas town in America by Country Living Magazine. The town relishes being known as the town made famous by Norman Rockwell and what better time than the holidays to showcase its charm? Fountain Inn, South Carolina has made it a tradition to turn its town into a Hallmark movie scene during the holiday season, with the Christmas "Inn" Our Town Festival, including lantern-lit streets, horse-drawn carriages, Santa's workshop, and much more.
OnlyInYourState may earn compensation through affiliate links in this article.
Address: Six Flags Road, Six Flags Rd, Eureka, MO 63025, USA
Address: Six Flags White Water, 250 Cobb Pkwy N, Marietta, GA 30062, USA
Address: Tempe Diablo Stadium, 2200 W Alameda Dr, Tempe, AZ 85282, USA
Address: Utah State Fairpark, 155 1000 W, Salt Lake City, UT 84116, USA
Address: Hurricane Harbor Phoenix, 4243 W Pinnacle Peak Rd, Glendale, AZ 85310, USA
Address: Bastian Agricultural Center | USU Extension, 2100 W 11400 S, South Jordan, UT 84095, USA
Address: Bandimere Speedway, 3051 S Rooney Rd, Morrison, CO 80465, USA
Address: Fairgrounds Access Road, Aurora, CO 80016, USA
Address: Raging Waters Drive, Raging Waters Dr, San Dimas, CA 91773, USA
Address: Valleyfair, 1 Valley Fair Dr, Shakopee, MN 55379, USA
Address: Expo Idaho, 5610 N Glenwood St, Garden City, ID 83714, USA
Address: Dorney Park Road, Dorney Park Rd, Allentown, PA 18104, USA
Address: Cowabunga Bay Water Park, 900 Galleria Dr, Henderson, NV 89011, USA