Here's How You Can Avoid The Crowds When You Visit Great Smoky Mountains National Park
The Great Smoky Mountains National Park in Tennessee (well, kind of) is one of the most frequently visited places in the U.S. National Parks system, and for good reason. This stunning park is actually shared between North Carolina and Tennessee and is named for the beautiful and ethereal fog that frequently surrounds the mountains and offers a "smoky" appearance. Fortunately, there are ways to avoid the crowds when you visit this popular national park. Looking for a great hike without all the people around? You're in luck!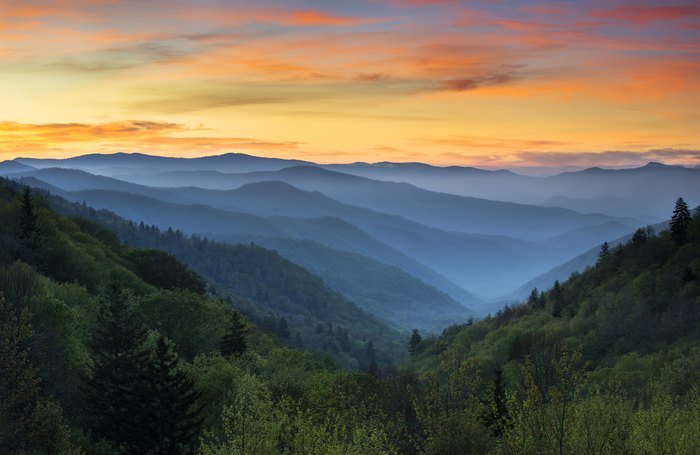 Have you visited the Great Smoky Mountains recently? We'd love to hear about your experience! For more information about Newfound Gap, check out the official NPS website. Do you have any favorite national parks to visit in Tennessee? What are they? Let us know in the comments! Be sure to share them with us as well by filling out this form. We love hearing from you and learning about all your favorite spots in this amazing country!
Address: Newfound Gap, Tennessee 37738, USA
National Park To Visit In Tennessee
March 13, 2022
What are some of the best parks in Tennessee?  
Tennessee is an amazing place filled with all the natural wonder in the world; it seems like no matter where you look, you're sure to discover something amazing. Tennessee is home to an impressive 56 state parks, all of which are beloved by locals and sure to thrill. Some of the best – ie, highly rated, so "best" as decided by actual visitors – parks in Tennessee include amazing, one-of-a-kind gems like Fall Creek Falls State Park, which is a must-do for any and all waterfall enthusiasts. A few others that are definitely must-dos for waterfall lovers are Cummins Falls State Park, Savage Gulf State Natural Area, and David Crockett State Park. Of course, those are nowhere near all of them – just some good starting points! Other favorites include Norris Dam State Park, Burgess Falls State Park, Cedars of Lebanon State Park, and Rock Island State Park. Of course, with 56 to pick from, these are still not all of them. Tennessee is a state full of magic, especially if you're a lover of nature and natural beauty.  
What are the best hiking trails in Tennessee?  
With 56 state parks scattered across the state, there are sure to be plenty of awesome hiking trails, too, be they in those parks or elsewhere. Some of the most popular hikes in Tennessee include the Alum Cave Trail to Mount LeConte, which is 11 miles long, very challenging, and very rewarding. Other favorites include Laurel Falls Trail (easy, 2.4 miles), Rainbow Falls Trail (moderate, 5.1 miles), Chimney Tops Trail (hard, 4.4 miles), and Grotto Falls Trail (moderate, 2.6 miles). We're also major fans of hiking trails in Tennessee with river or lake views, and naturally, there are thousands of those all over our amazing state, so we're in business! Check out Piney Falls Trail (easy/kid-friendly, 1.7 miles), the Twin Arches Loop Trail (moderate, 4.7 miles), and the famous Fiery Gizzard Trail (hard, 9.6 miles). For more information about many of these and then some, check this article out!  
Address: Newfound Gap, Tennessee 37738, USA