These Haunted Train Rides In The U.S. Will Terrify You In The Best Way Possible
Haunted hayrides are so passé – it's all about haunted train rides in the U.S. this Halloween! Combining the old-fashioned thrill of riding through the dark on a train with the classic frights, spooks and starts of a haunted house experience, these haunted train rides across the U.S. will make you shiver in a good way.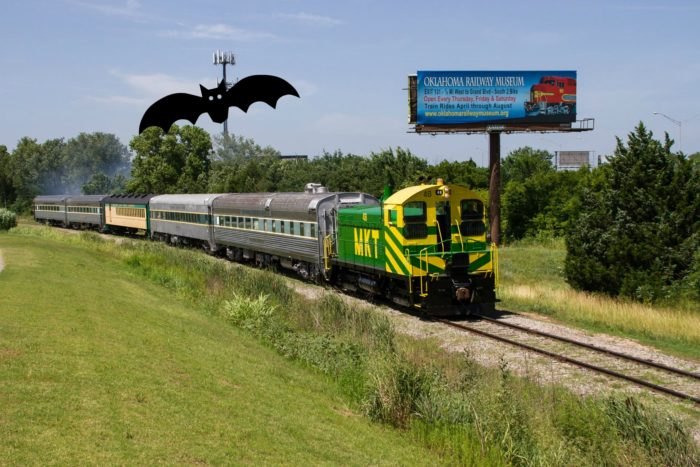 What's your favorite way to celebrate the spooky season in your neck of the woods? Have you experienced any of these haunted train rides in the U.S. before? If so, we'd love to hear all about your spooky experience! Looking for more fall fun? Here are some of our favorite fall festivals across the U.S.
Address: New Hope Railroad, Stockton Ave, New Hope, PA 18938, USA
Address: Chelatchie Prairie Railroad, 207 Railroad Ave, Yacolt, WA 98675, USA
Address: Nevada Northern Railway Museum, 1100 Ave A, Ely, NV 89301, USA
Address: Oklahoma Railway Museum, 3400 NE Grand Blvd, Oklahoma City, OK 73111, USA
Address: California State Railroad Museum, 125 I St, Sacramento, CA 95814, USA
Address: Hoosac Valley Train Ride, 3 Hoosac St, Adams, MA 01220, USA
Address: Railway Village Museum, 586 Wiscasset Rd, Boothbay, ME 04537, USA
Address: Midwest Haunted Rails, 405 E Thresher Rd, Mt Pleasant, IA 52641, USA
Address: Wheaton Miniature Train & Carousel, 2002 Shorefield Rd, Silver Spring, MD 20902, USA
Haunted Train Rides in the U.S.
September 01, 2022
What are some non-haunted train rides in the U.S. I can take this fall?
Not everyone is into the frights of the spooky season, and we totally get it. If you're more of a fall foliage fan than fearless ghost hunter, you'll be delighted to learn about these 18 epic train rides across America that, while beautiful all year long, are especially lovely in the fall months. One of our favorite autumn train rides is the one offered at Cuyahoga Valley National Park. Along this scenic three-and-a-half-hour train ride, you'll journey straight through the Cuyahoga River Valley, along the eponymous river and past gorgeous wetlands (yes — Ohio has wetlands!). This excursion offers an unrivaled experience of one of the country's finest and overlooked national parks that's sure to give passengers a newfound appreciation for the Midwest. You'll find other lovely fall foliage train rides aboard the Cass Scenic Railroad in West Virginia, the Mount Washington Cog Railway in New Hampshire, the Branson Scenic Railroad in Missouri, the Cumbres & Toltec Scenic Railroad in New Mexico, the Broadmoor Manitou and Pikes Peak Cog Railway in Colorado, and the Grand Canyon Railway in Arizona.
Address: New Hope Railroad, Stockton Ave, New Hope, PA 18938, USA
Address: Chelatchie Prairie Railroad, 207 Railroad Ave, Yacolt, WA 98675, USA
Address: Nevada Northern Railway Museum, 1100 Ave A, Ely, NV 89301, USA
Address: Oklahoma Railway Museum, 3400 NE Grand Blvd, Oklahoma City, OK 73111, USA
Address: California State Railroad Museum, 125 I St, Sacramento, CA 95814, USA
Address: Hoosac Valley Train Ride, 3 Hoosac St, Adams, MA 01220, USA
Address: Railway Village Museum, 586 Wiscasset Rd, Boothbay, ME 04537, USA
Address: Midwest Haunted Rails, 405 E Thresher Rd, Mt Pleasant, IA 52641, USA
Address: Wheaton Miniature Train & Carousel, 2002 Shorefield Rd, Silver Spring, MD 20902, USA