Glacier National Park Is One Of America's Most Underrated Fall Foliage Destinations
When it comes to autumn colors, most Americans imagine tree-lined streets in New England or crunchy leaves in Midwestern backyards. Fall is one of the most gorgeous times to sightsee, and there's one park in the United States that might not immediately strike travelers as a must-visit destination during autumn months. However, Glacier National Park is a gorgeous destination and, in our opinion, THE national park to visit in Montana, particularly for amazing and unexpected fall foliage hotspots. Read on to learn more about why you'll want to add it to your travel bucket list.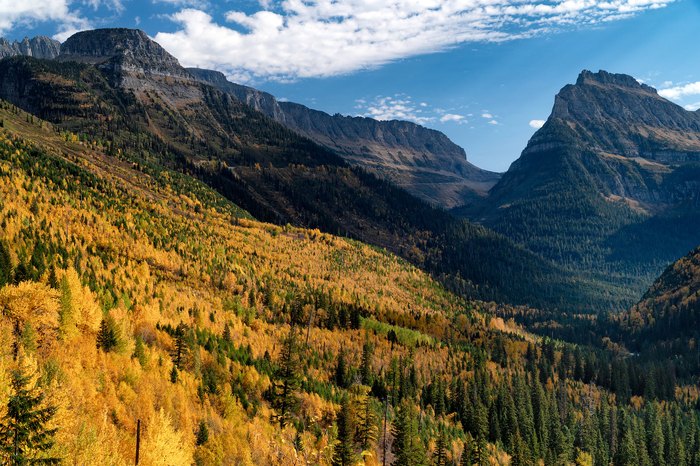 Happy exploring!
Have you checked out the fantastic autumn colors here in years past? Which parts of the park were your favorites? Share your suggestions and photos with us in the comment section below.
For more information about fall activities within Glacier National Park, check out its direct link on the National Park Service site. You can also go to the official Glacier National Park Facebook Page.
Glacier is not the only must-see destination in Montana. Check out the Kootenai Falls and its awesome swinging bridge!
OnlyInYourState may earn compensation through affiliate links in this article.
Address: Going-to-the-Sun Road, Going-to-the-Sun Rd, Montana, USA
National Park to Visit in Montana
August 12, 2022
I'd like to learn more about Missoula.
Missoula is a beautiful city and known across the state and further afield as one of the best places to get a feel for all that Montana has to offer. As one of the largest cities in the state with a population of approximately 75,000 people, you'll find a wealth of things to see, do, and experience. For starters, if you're a foodie, they boast an outstanding restaurant scene with loads of options for every taste and desire. There is also a quaint downtown area brimming with independent bookstores, boutique shops, coffee shops, and more. And you just can't beat the natural beauty. Everywhere you look you'll enjoy spectacular vistas that will make you fall in love with the state overall.
Can you suggest a cool swimming hole in Montana?
There are so many of them it would be hard to choose one over another. However one of the most beautiful swimming holes in the state is Devil's Glen. Located in the town of the same name, the swimming hole can be found after a pretty leisurely 2.5 mile-hike into the wooded area that surrounds it. The views along the way are totally worth it and if it's a little bit warm out, you'll be glad when you reach its cool waters. Plan to pack a lunch and stay awhile, even if you don't swim, because it is truly one of the most beautiful places in the state.
Where can I get Rocky Mountain Oysters in Montana?
Folks in Montana love their Rocky Mountain Oysters and you can find them at numerous mom and pop eateries, mid-level restaurants, and upscale dining establishments. A few of the most popular places in the state to enjoy them are The Old Saloon in the town of Emigrant, Stacey's Old Faithful Bar and Steakhouse in Gallatin Gateway, and Bull Mountain Grille in Billings, just to name a few. Enjoy!