11 Restaurants You Have To Visit In Texas Before You Die
A food bucket list? Now that's something we can all get behind. Given the size of our state (and our love of food), you could spend your entire life eating out for every meal in search of the best restaurants in Texas and STILL not try everything. Luckily, we've got you covered so you don't have to. These restaurants define Texas in every possible way. They're the places you'd take a relative or friend from out of state to show them what we're really about in terms of food. And they have some darn good eats to boot. Here are 11 Texas restaurants you HAVE to check out before you die.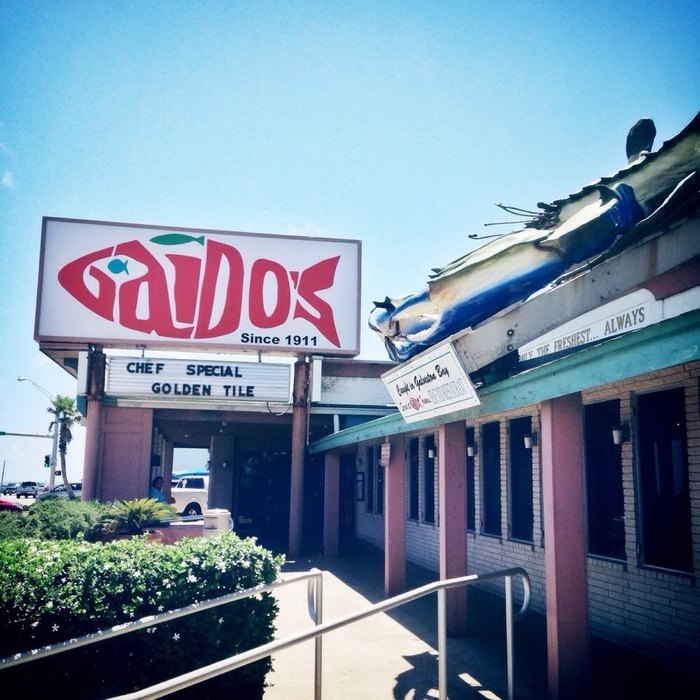 What do you think of our list of the best restaurants in Texas? Share your thoughts with us in the comments below! If you know another must-visit eatery in the Lone Star State, nominate it for a chance to be featured.
Hungry for more? Check out these iconic Texas restaurants that are known for a single menu item.
Address: Gaidos Seafood Restaurant, 3828 Seawall Blvd, Galveston, TX 77550, USA
Address: 5901 Watauga Rd, Watauga, TX 76148, USA
Address: 5839 Westheimer Rd, Houston, TX 77057, USA
Address: 2458 N Main St, Fort Worth, TX 76164, USA
Address: 206 W 2nd St, Taylor, TX 76574, USA
Address: City Market, 633 E Davis St, Luling, TX 78648, USA
Address: Blue Bonnet Cafe, 211 US-281, Marble Falls, TX 78654, USA
Address: Mary's Cafe, 119 Grant Ave, Strawn, TX 76475, USA
Address: Old Hwy 90, Comstock, TX 78837, USA
Address: 1287 Gruene Rd, New Braunfels, TX 78130, USA
Address: Driftwood, TX 78619, USA
best restaurants in Texas
July 24, 2020
What are the most famous restaurants in Texas?
Texas is a giant state, and there's no shortage of highly rated eateries. Among the most famous restaurants in Texas is definitely Amarillo's The Big Texan. This giant yellow building is home to the famous 72-ounce steak eating competition. If you can devour this epic platter in the allotted time, your meal is free! But be warned: Many have tried and many have failed.
What are the best BBQ joints in Texas?
When it comes to the best BBQ in Texas, people have a lot of opinions. Tourists flock to the long lines at Franklin while locals like to duck inside an unassuming hole-in-the-wall. One thing is certain, however, you'll find excellent BBQ in the tiny town of Lockhart. This delicious destination is heralded as the BBQ Capital of the World. Whether you eat at Black's or Kreuz Market, you'll be blown away by the tender meat and smoky flavor.
What are the best Tex Mex Restaurants in Texas?
There's something so satisfying about scrumptious Tex Mex. If you're craving a heaping bowl of queso, a tangy margarita, and a giant burrito, you have to head to San Antonio. This bustling Texas city is home to the best eats in the state. No matter where you go, you'll be met with heavenly meals.
Address: Gaidos Seafood Restaurant, 3828 Seawall Blvd, Galveston, TX 77550, USA
Address: 5901 Watauga Rd, Watauga, TX 76148, USA
Address: 5839 Westheimer Rd, Houston, TX 77057, USA
Address: 2458 N Main St, Fort Worth, TX 76164, USA
Address: 206 W 2nd St, Taylor, TX 76574, USA
Address: City Market, 633 E Davis St, Luling, TX 78648, USA
Address: Blue Bonnet Cafe, 211 US-281, Marble Falls, TX 78654, USA
Address: Mary's Cafe, 119 Grant Ave, Strawn, TX 76475, USA
Address: Old Hwy 90, Comstock, TX 78837, USA
Address: 1287 Gruene Rd, New Braunfels, TX 78130, USA
Address: Driftwood, TX 78619, USA