This Texas Waterfall Is So Hidden, Almost Nobody Has Seen It In Person
There are tons of secret waterfalls in Texas, but this one is so hidden that almost nobody has seen it in person. We're talking about Dolan Falls, a 15-foot cascade tucked away in Devils River State Natural Area. This remote natural wonder isn't easily accessed, but it's so worth the trip.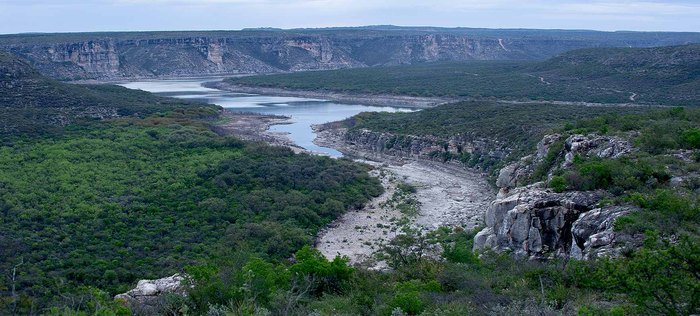 Visit the Devils River State Natural Area website or Facebook page to learn more.
Have you ever seen Dolan Falls in person? If so, tell us all about your experience in the comments! For more secret waterfalls in Texas, check out our previous article and start planning your next waterfall chasing adventure in the Lone Star State!
OnlyInYourState may earn compensation through affiliate links in this article. As an Amazon Associate, we earn from qualifying purchases.
More to Explore
Secret Waterfalls in Texas
What are some other secret waterfalls in Texas?
Texas is positively teeming with waterfalls. But Texas is also a very big state, meaning that some of these marvels will undoubtedly fall through the cracks. From underground waterfalls and cave waterfalls to urban waterfalls and man-made marvels, here are the top hidden gem waterfalls in Texas:
Lake Buchanan Waterfalls. Vanishing Texas River Cruises, which sails the deep blue waters of Lake Buchanan, leads intrepid explorers to a breathtaking waterfall that's only accessible by boat. You definitely won't forget a trip to this lush, otherworldly hidden gem in Texas.
Cascade Caverns Waterfalls. A world of wonder is hiding beneath Texas Hill Country. At Cascade Caverns, adventurers can embark on an epic journey into a system of underground caves, which have a haunting, otherworldly beauty. Its name comes from the seven waterfalls that used to flow through its chambers, six of which dried up in the 1950s during a drought. One waterfall remains -- the only underground waterfall in Texas.
Dolan Falls. Nestled within one of the most remote areas in Texas, Dolan Falls is a beautiful oasis worth seeking out. Your challenge, should you choose to accept: embark on the one-mile hike (with a kayak or canoe in tow) from the parking lot to the river. Then, climb aboard your water vessel for a half-mile paddle downstream, where the current is often fast-flowing. Only experienced paddlers should attempt to visit Dolan Falls, as the rapids just beyond the waterfall are class four (class five when the river swells). For those able to safely take this on, the reward of seeing these enchanting falls is well-worth it.
Cattail Falls. Hiding deep within the mystical desert landscape of Big Bend National Park, the Cattail Falls Trail is a 5.7-mile hike of moderate intensity that's suitable for most skill levels. The trickiest aspect of this hike is that the trail is somewhat unmarked; as such, it's best to hike with someone familiar with the trail, whether that's a fellow hiker or national park ranger. You're in for a treat on this trail, which features sweeping mountain views and the beguiling, 80-foot-tall Cattail Falls.
Twin Falls. Pedernales Falls is one of the most popular state parks in Texas, and for good reason. It's a geological wonder with fast-flowing, crystal-clear water cascading down a series of limestone rocks. However, for a less-crowded experience, the Twin Falls Nature Trail is accessible to all skill levels and takes less than 30 minutes round-trip. It culminates in a hidden waterfall-fed grotto surrounded by lush, jungle-like greenery. The scene is akin to a faraway tropical oasis, making it hard to believe you're still in Texas!
Related Articles
Explore Texas
Featured Addresses

Devils River State Natural Area, 21715 Dolan Creek Rd, Del Rio, TX 78840, USA