Take A Glow-In-The-Dark Nighttime Kayak Tour For An Unforgettable Texas Coast Adventure
The Gulf Coast of Texas is a treasure trove of natural wonders. But have you ever explored this area at night? Sign up for an evening adventure with GlowRow and you'll enjoy this exact experience. GlowRow is a Galveston kayak rental company offering tours in Texas with a bit of a twist: the kayaks are completely transparent and radiate colored lights. The effect is a magical and educational experience in nature that you won't soon forget. Ready to learn more? Then let's go!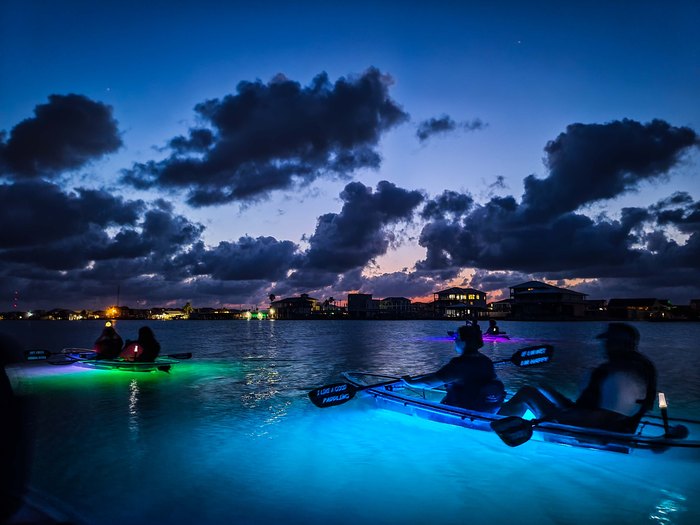 So what are you waiting for? Sign up for a guided tour with GlowRow and let the adventures begin! Tour locations vary each week. For more information, including pricing, you can check out GlowRow online. You can also follow GlowRow on Facebook for exciting updates and more details.
Have you already embarked upon a GlowRow adventure? If so, what was your favorite part? We'd love to read about your experience in the comments section below!
If you're still in the mood for more Texas adventures, take a look at this video:
More to Explore
Adventures in Texas
Where can we find haunted places in Texas?
The Grand Galvez (formerly called the Hotel Galvez) in Galveston is where the "The Lovelorn Lady" ghost frequents the 5th
The Presidio La Bahia in Goliad is where both battles and a massacre took place during the Texas Revolution in the 1700s.
The Baker Hotel and Spa in Mineral Wells is said to be visited by spirits walking along the hotel hallways.
Read on to learn more about the many haunted places in Texas.
Where can we find historic landmarks in Texas?
The Alamo in San Antonio is the site of one of the bloodiest battles in Texas.
The USS TEXAS in Channelview is a Navy battleship used in both World Wars.
The Texas State Capitol in Austin is the seat of government and one of the most historic structures in the state and country.
Read on to learn more about the many historic landmarks in Texas.
Where can we find waterfalls in Texas?
The Gorman Falls at Colorado Bend State Park features a 65-foot cascade.
The falls at McKinney Falls State Park in Austin are accessible via a 6.5-mile hiking trail loop.
The Westcave Preserve Falls in Round Mountain feature a 40-foot waterfall that spills into an emerald pool below.
Related Articles
Featured Addresses