Take A Beautiful Fall Foliage Road Trip To See Texas Autumn Colors
It's time for another road trip, y'all! This just might be the best one yet, especially in terms of breathtaking scenery. There's a popular joke that we don't experience fall in Texas, but one might beg to differ. Temperature isn't the only indication of season change. Although it remains fairly warm in much of the state until about late December, the trees in Central, West, and East Texas let us know that fall is here, and they tend to show out in an absolutely beautiful way. It is definitely possible to visit the best fall foliage in Texas!
As usual, you can find the Google Map for the trip here. It's about 11 hours and 700 miles, so we'll definitely be camping in a few of the parks to give us ample time for exploring during the day. I guarantee you'll want to travel this route sometime this fall. There's nothing better than a trip through the Lonestar State to see the fall colors in Texas.
Ready for a road trip route through the best state in the nation? Not that we're biased or anything… check it out for yourself below!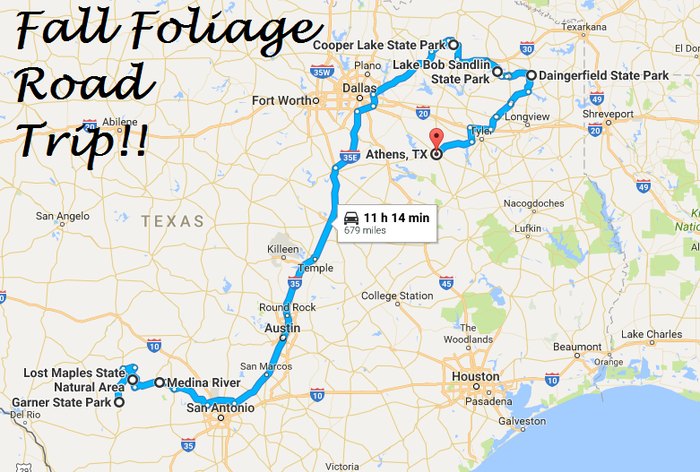 Wow. It's hard to believe there's so much natural beauty in Texas, isn't it? Some folks tend to think that ours state is all wide-open plains and spaces, but there are endless sights to see and things to do in Texas.
Have you been to any of these places to see the best fall foliage in Texas? Would you take this road trip so you can see them all? Plus, if it stays hot deep into autumn, the hike to this Texas swimming hole will keep you cool.
OnlyInYourState may earn compensation through affiliate links in this article.
More to Explore
Best Fall Foliage In Texas
What is the best time to see peak fall foliage in Texas?
The entire month of October is great for spotting the best fall foliage in Texas, but the most vibrant colors tend to be found in mid to late October. Once November rolls around, the leaves begin to lose their luster and fall.
Where are the best places in Texas to see fall foliage?
McKittrick Canyon in the Guadalupe Mountains National Park may be the best spot to see Texas fall foliage, but Winnsboro and the surrounding area is best if you're in East Texas. Lost Maples State Natural Area in Vanderpool is popular, as is Tyler State Park in Tyler, Garner State Park in Concan, and Palo Duro Canyon State Park.
What are the best Texas hikes to take in the fall?
The best fall hikes in Texas tend to be short and sweet, with most averaging a mile or less. Maple Trail in Lost Maples State Natural Area offers incredible views with a distance of only .36 of a mile, and Campos Trail Overlook in Garner State Park is only .68 of a mile but offers an overlook with a panoramic view.  Head to Mountain View Trail in Daingerfield State Park for a 1.2 mile trek that shows of a handful of pine-studded bluffs, or head to Dogwood Trail in Lake Bob Sandline State Park for a view of the leaves over the water.
Related Articles