Some Of The Cleanest And Clearest Water Can Be Found At Texas' Blue Hole Regional Park
Texas has plenty of pristine swimming spots, but Blue Hole Regional Park is definitely among the clearest. Surrounded by cypress trees, this magical alcove deserves a spot on your bucket list ASAP.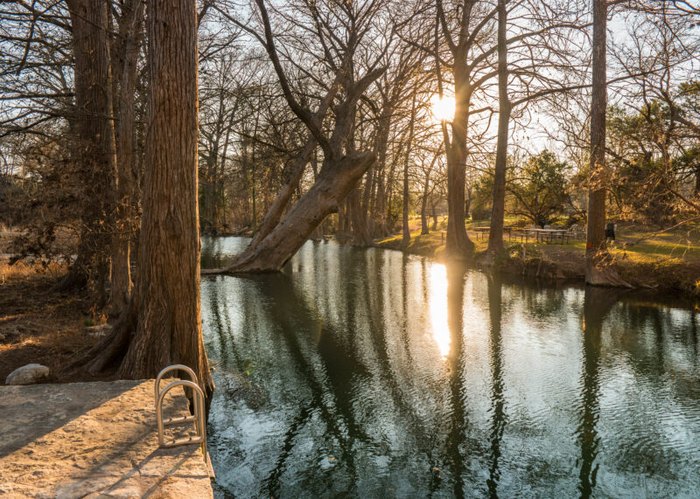 For the most up-to-date hours, permits, pictures, and more, visit the website or Facebook page.
Have you ever swum in the Blue Hole? If so, is the water as clear as the pictures suggest? Let us know your thoughts, and check out our previous article for more pristine swimming spots to check out this summer: These 11 Swimming Spots Have The Clearest, Most Pristine Water In Texas.
Are there any restaurants, businesses, or other attractions in Texas you think the world should know about? Head over to our nomination page and give them a shoutout – you just might see your submission featured in an upcoming article!
OnlyInYourState may earn compensation through affiliate links in this article.
Address: Blue Hole Ln, Wimberley, TX 78676, USA
Clearest Water in Texas
June 06, 2021
Where is Blue Hole Regional Park in Texas?
Blue Hole Regional Park is located in Wimberly, Texas. It's a spring-fed natural water park surrounded by lush forest and complete with rope swings. Once upon a time, the area had been targeted for development, but the locals were so adamantly against the idea that they teamed up to prevent it - and were successful. Today, it's a popular park in the Lone Star State, with more than four miles of hiking and walking trails, picnic spots, and, of course, top-notch swimming. It's open from 8 a.m. to sunset, seven days a week. 
What is the best swimming hole in Texas? 
"Best" is, of course, subjective, but we've got a few favorites we love to share! Some of those include places like Krause Springs, Blanco State Park, Jacob's Well, and the swimming hole at Neal's Lodge. As we said, there are a lot of swimming holes scattered throughout Texas. Every one of them has a magic of its own; they're scenic, interesting, and perfect for a hot day. Better still, they're perfect on those days where humidity just adds to the heat! We also like Barton Springs Pool, near Austin. For a more complete list of our preferred swimming holes in Texas, this article should provide some inspiration. 
Where are some interesting places to visit in Texas?
Texas is an enormous state. If one were to drive from tip to tip, west to east, they would go on a 660-mile journey. The state is lengthy, too, coming in at an impressive 790 miles long from top to its southernmost tip. Being as huge as it means it's got more than enough places that everyone should visit at least once! Some of those places include historic sites like The Alamo, and awesome free things to do, too, like the world-famous San Antonio River Walk. The Lone Star State is also rich with natural beauty, and we have 80 state parks to explore and enjoy.