Walk Through Over 300,000 Christmas Lights At The Amarillo Botanical Gardens In Texas
Whenever you're planning your holiday itinerary, consider adding Amarillo Botanical Gardens in Texas to the list. This botanical gardens Christmas attraction includes a display of more than 300,000 lights that intertwine with the lush, unique flora in an absolutely enchanting way. Bundle up and get ready to enjoy!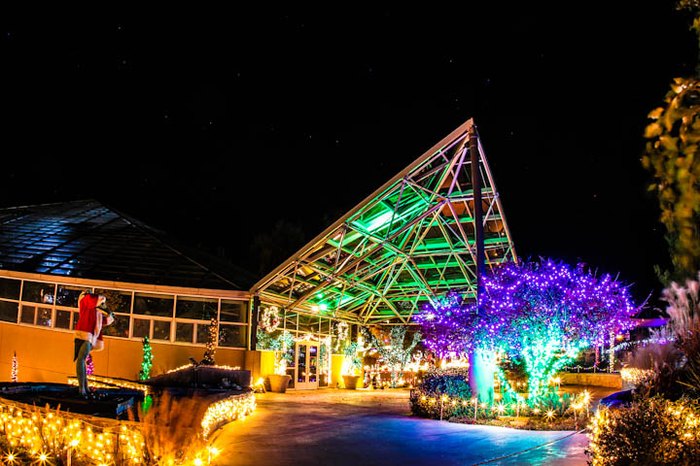 Visit the Amarillo Botanical Gardens website and The Amarillo Botanical Gardens Facebook page for more information.
Have you ever been to Amarillo Botanical Gardens at Christmastime? If so, please let us know how you liked the experience. For related content, read about some of the most amazing Christmas light displays in Texas.
Address: 1400 Streit Dr, Amarillo, TX 79106, USA
OnlyInYourState may earn compensation through affiliate links in this article.
botanical gardens christmas
October 21, 2022
Why should you spend Christmas at the botanical gardens in Texas?
There are many wonderful places to visit during the Christmas season, including a botanical garden. One of the best botanical gardens in Texas that puts on a spectacular light show each year is the San Antonio Botanical Garden, which spans 38 acres. What makes this light show truly magical is the fact that it boasts over one million lights and festive displays. This light show is a great place to experience with friends and/or family. In fact, over the years, it's become a holiday tradition for many. Visitors will follow a one-mile path that meanders through the garden while enjoying all of the illuminated displays, which were created by local and international artists. In addition to the lights and displays throughout the garden, food and drinks will also be available for purchase. There will even be a  s'mores station where you can roast your own marshmallows. How fun is that? If you're looking for something fun to do this Christmas season that's sure to fill you with lots of holiday cheer, consider checking out "Lightscape" at the San Antonio Botanical Garden. Following the Christmas season, you'll also want to visit the San Antonio Botanical Garden again. It's a great place to visit all year long.
What are seven reasons Christmas in Texas is the best?
If you've ever wondered whether or not it's worth staying in Texas for Christmas, wonder no more. Christmas in Texas is the absolute best, and we've included seven reasons why below.
1. Texas is home to some of the biggest and most dazzling Christmas light displays around.
2. The food that's served in the Lone Star State during Christmastime is some of the best.
3. Texas hosts a variety of wonderful festivals and parades, which attract both Texans and those who live out of state.
4. It's highly unlikely you'll experience a white Christmas in Texas. So, if you're looking to spend Christmas somewhere that's not freezing, Texas is a great place to be.
5. Beautiful poinsettias are located throughout Texas during the winter season. This flower is often referred to as the "Christmas Flower."
6. Texas is also home to many beautiful churches to celebrate Christmas in.
7. Texans don't mess around when it comes to decorating their homes during the Christmas season. You can drive around the Lone Star Star and see illuminated homes everywhere, especially in some of the smaller towns.
Address: 1400 Streit Dr, Amarillo, TX 79106, USA
OnlyInYourState may earn compensation through affiliate links in this article.