7 Brief But Beautiful Hikes Close To Nashville You Can Take In Under An Hour
It's that time of year again, folks. The trees are exploding in vibrant shades of green, flowers are blooming, and the relentless pollen of Middle Tennessee is once again assaulting our sinuses. Okay, so the last one isn't nearly as fun as the others, but we still love getting out in the beauty of Middle Tennessee nonetheless! If you don't have a ton of time, we've got the perfect options for you to get on a short hike and still experience the natural beauty that's all around us. Here are some of the best hikes in Nashville for coming lovely days: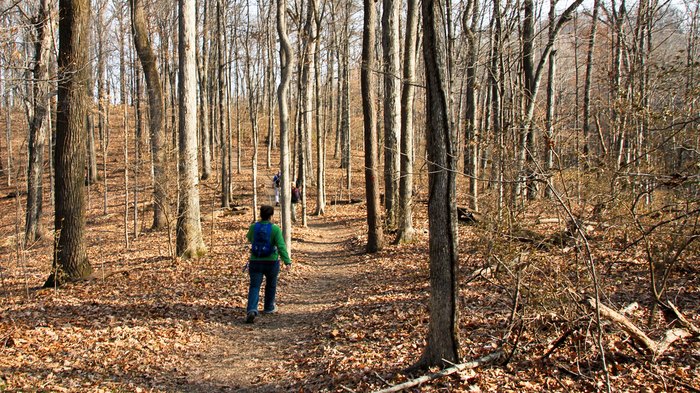 If you're looking for outdoor opportunities closer to the city, check out this historic bridge downtown with a fascinating history.
OnlyInYourState may earn compensation through affiliate links in this article. As an Amazon Associate, we earn from qualifying purchases.
More to Explore
Best Hikes in Nashville
Where are some of the best kid-friendly hikes around Nashville?  
Nashville is lovely, and so are its many hiking trails! Though some hikes in and around Nashville can be pretty challenging, there are plenty of others easy enough to bring the kids along. Among our favorite short and sweet kid-friendly hikes in Nashville is the Hidden Lake Double Loop at Harpeth River State Park, which features a gorgeous little lake and goes for 1.9 easy-going miles. Then, there's the Stones River Greenway of Nashville Trail (what a mouthful), which can be found at the Hermitage Public Use Area and extends 5.7 miles. Though it's a little longer, it's a boardwalk trail and quite easy. It's scenic, too, with some excellent river views. We also love the Anderson Road Fitness Trail, which can be found at Anderson Road Metropolitan Park and extends one and a half miles. It features some great lake views that the kids (and you!) are sure to adore.  
What are some wonderful scenic hikes around Nashville?  
Lovers of the great outdoors and enchantingly scenic landscapes will fall in love with Nashville fairly quickly, and for obvious reasons. We're pretty sure every hike in or around Nashville is a scenic hike in or around Nashville, though we do have a few important favorites. Head to Cummins Falls State Park and do the hikes there, where you'll encounter stunning greenery, otherworldly waterfalls, and refreshing swimming holes. Do the Montgomery Bell Trail, which will lead you past two lakes, three overnight shelters, and plenty or recreation opportunities galore. The Blue Hole Trail is unforgettable; find it at Rock Island State Park and enjoy the stunning waterfalls and fairy-tale scenery (which, admittedly, Tennessee is pretty good at). Finally, embark upon the epic Natchez Trace Parkway and explore Jackson Falls, which is a steep – but paved – path all the way down. It's coming back up that's the hard part!  
Related Articles