The Surprising Tennessee Town That Makes An Excellent Weekend Getaway
Tennessee is a true blue Southern state which means you'll find all sorts of darling little towns tucked away in the mountains, along the Cumberland Plateau, and even along the western edge of the state near the Mississippi River. The real question, of course, is where you'll find the best small town in Tennessee. Our consensus? The best small town in Tennessee is Greeneville! So where is Greeneville Tennessee?
You'll find the small town of Greeneville fittingly in Greene County, and the town boasts a population of a mere 15,479 folks. It's a little town with a big personality, one that has a long and storied history that involves former presidents and the Revolutionary War. You may not have heard of the town of Greeneville, but it's a getaway that will teach you about the intimate history of Tennessee and the people that made the town what it is today.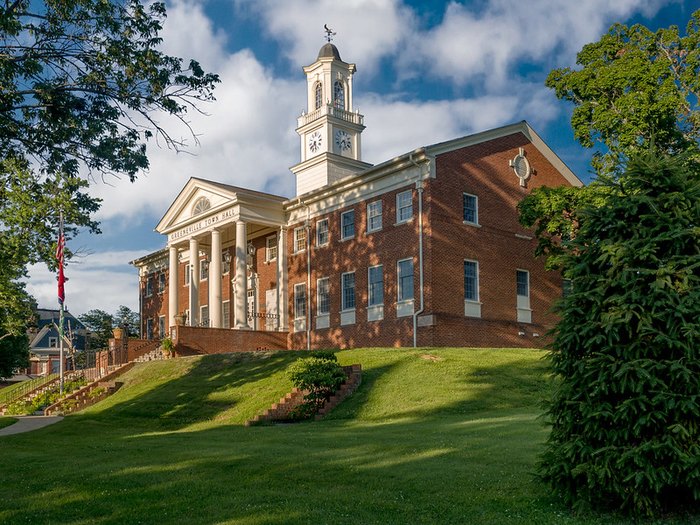 What a neat place to visit! If, before now, you ever asked yourself where is Greeneville Tennessee, we hope this lovely town is now on your radar, because it makes a wonderful weekend getaway in Tennessee. Do you agree that Greeneville is the best small town in Tennessee?
Did you know that it was once the capital of Franklin? For that matter did you know there was briefly a state called Franklin? If you're looking to learn more about the city then we'd recommend visiting the town's official website.
Address: Greeneville, TN, USA
OnlyInYourState may earn compensation through affiliate links in this article.
More interesting tid bits about Greeneville, TN
January 18, 2023
Is Greenville TN in the Smoky Mountains?
Greeneville TN is indeed located in the foothills of the Great Smoky Mountains. This charming northeastern Tennessee town is about 70 miles from Knoxville, TN near the Nolichucky River. The Cherokee National Forest and the Pisgah National Forest lie to the south of Greeneville.
What towns are near Greenville TN?
While Greeneville is about 70 miles east of Knoxville there are many small towns surrounding it, mostly to the north as the land to the south is national forest land. Its nearest neighbors to the east are Tusculum and Afton. Here are a few more towns that are near Greenville TN:
Mosheim, TN
Midway, TN
Chuckey, TN
Cross Anchor, TN
Albany, TN
St. James, TN
Telford, TN
White Rock, TN
Parrottsville, TN
What cities are near Greeneville TN?
Knoxville is the largest city near Greeneville, Tennessee, however, there are several other medium-sized cities that might sound familiar as well. All of these cities are quite scenic and are lovely towns to visit. Here is a list of some of the cities near Greeneville, TN:
What are some interesting things about Greeneville Tennessee?
It is interesting to note that Greeneville is the only town with that exact spelling in the United States. There are many towns called Greenville, but only one Greeneville. It is also a little-known fact that it was once a capital of a state – but not a state you may be aware of. In the 18th century, part of what is now east Tennessee was briefly the state of Franklin.
Address: Greeneville, TN, USA
OnlyInYourState may earn compensation through affiliate links in this article.