We Dare You To Take This Road Trip To Tennessee's Most Abandoned Places
There's something about an abandoned spot that just makes our blood run cold — whether it reeks of history or age-old heartache, it's a neat experience. That's why we've found a couple of eerie or downright weird spots for you to visit this weekend — make a whole trip out of it, why don't ya! Grab some adventurous friends and take a road trip to these abandoned places in Tennessee. But make sure to abide by all posted signs and state laws. We wouldn't want you getting in trouble now, would we?
See detailed directions or modify the road trip to your tastes on this Google map.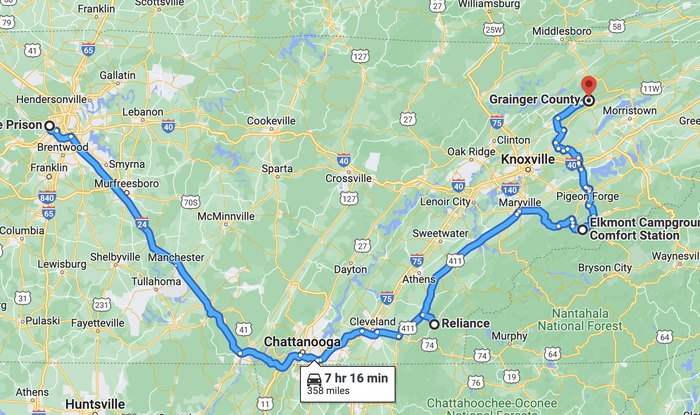 Have you visited any of these abandoned places in Tennessee? If so, we want to hear all about it! Share your experiences with us in the comments below. And if you know about more creepy places in Tennessee, fill out our nomination form and tell us all about it. Who knows? We might even feature it in an upcoming article.
Looking for more fun Tennessee road trips? We've got you covered. If you're craving brisket and ribs, embark on this BBQ road trip through Tennessee. If you want to explore some of our state's most beautiful places, adventure through this Tennessee waterfall road trip.
OnlyInYourState may earn compensation through affiliate links in this article.
More to Explore
Creepy Places In Tennessee
Are there any haunted places in Tennessee?
Yes, there are many haunted places in Tennessee. The Bell Witch Cave in Adams remains one of the scariest places in the state. Rumor has it, America's most haunted family lived near the cave and experienced unbelievable hauntings. There are more haunted places in Tennessee, including:
What are the scariest ghost stories about Tennessee?
Tennessee's scariest ghost story takes place at the Union Station Hotel in Nashville. This high-end hotel used to be a train station, and some people say its former passengers never wanted to leave. Room 711 is rumored to be haunted by a ghost of a young woman who died among the tracks. But this isn't the only spooky tale. Here are more famous Tennessee ghost stories:
Haunts inside Carnton Plantation
Related Articles
Explore Tennessee