Cayucos Is The Best Small Town In Southern California For A Weekend Escape
Southern California is spectacularly beautiful, and it's home to some of the most stunning shores and charming coastal towns in the country. This is a highly sought-after region that's a slice of paradise here on the Mainland, with cities such as Irvine, La Jolla, San Clemente, Santa Monica, and Hermosa Beach some of the most celebrated places to live and visit. But small-town charm abounds in Southern California, too, with little coastal locales that feel like a trip to the shores of Tuscany and, even better, your very own slice of paradise. Cayucos is one of these beautiful treasures to discover. Cayucos is the epitome of the Golden State's dazzling natural beauty, and makes for an amazing and wholly memorable weekend getaway.
From the Hawaiian Island of Oahu to the coast of Massachusetts and everywhere in between, come along with OnlyInYourState as we introduce you to the best Small Town Getaways you can take this year. From nature lovers and foodies to history buffs and shopaholics, there's something for everyone within these unforgettable, two-day itineraries curated by our local travel experts just for you.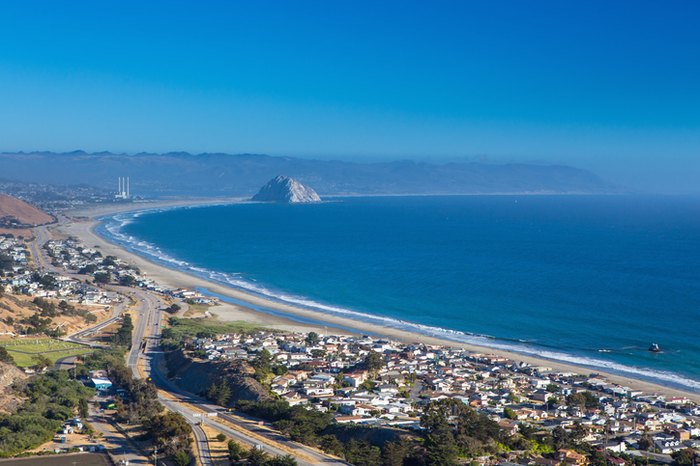 Have you visited this charming small town in SoCal before? Cayucos is a dream of a place that's even more enchanting in real life. Come and let yourself be swept away in this beautiful California Coast town!
Looking for more impossibly charming towns in SoCal? Here are some of our favorites… we love them all!
Not Your Average Bucket List Podcast
Only In Your State's podcast Not Your Average Bucket List takes a deep dive into Cayucos, California, and everything it has to offer. Our hosts, Marisa Roman and Sara Heddleston, discuss what their "Perfect Day" in Cayucos would consist of. Take a look at the infographic below to get your own suggestions for the perfect day exploring this small town.
To discover even more about Cayucos, California in a fun, easily-digestible manner, tune in to OnlyInYourState's brand new podcast, Not Your Average Bucket List, where we talk all about this charming town. Listen now on Spotify and Apple Podcasts.
OnlyInYourState may earn compensation through affiliate links in this article.
Address: Cayucos, CA 93430, USA