The Most Delicious Southern California Road Trip Takes You To 4 Hole-In-The-Wall BBQ Restaurants
So, you just love BBQ. You cannot get enough of slow-cooked tri-tip, smoked brisket, and fall-off-the-bone ribs. Nothing makes you happier than the perfect sweet, smoky, spicy, sticky barbecue sauce. And don't get you started on how great it is to find a little under-the-radar joint that serves unexpectedly-great food. If this sounds anything like you, we have a road trip you are going to love. Spend a full day discovering delicious hole-in-the-wall BBQ restaurants in SoCal.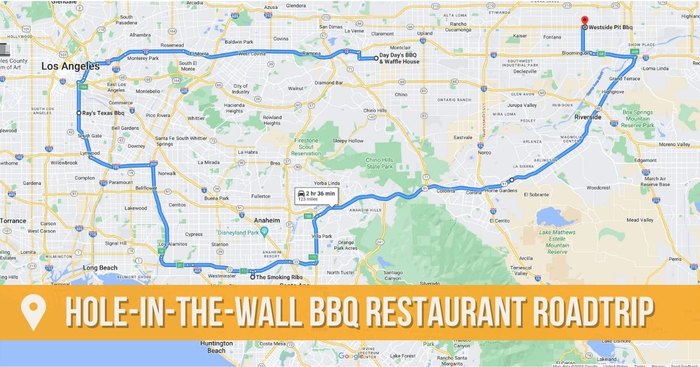 California might not be the first place you think about when you are in the mood for Texas-style BBQ but these four places can hold their own. Have you ever spent an entire day eating nothing but BBQ? What do you think about these little BBQ restaurants in Southern California? Do you have a favorite hole-in-the-wall restaurant that keeps you coming back for more? We want to hear about it! Meanwhile, check out a few more hidden gem restaurants in SoCal.
OnlyInYourState may earn compensation through affiliate links in this article.
Even more SoCal bbq restaurants
February 08, 2023
Where can you get Texas-style BBW in SoCal?
A good pulled pork sandwich, brisket, or smoky tangy BBQ can melt in your mouth and make you sing. But in SoCal? There are definitely a few places that can bring the BBQ. Here are a few places where you can get Texas-style BBQ in SoCal:
Jav's BBQ, Anaheim, CA: Pull up a chair, grab your bib, and sit down for some of the best BBQ in Anaheim a Java's BBQ. Be sure you get there early though because it has been known to sell out fast.
Smoqued California BBQ, Orange, CA: One of the best places to grab BBQ in Orange, CA with outstanding burnt ends (the most seasoned ends of the point half of the brisket). This slow-cooked BBQ with a California influence will have you coming back for more - maybe even on the same day.
Dr. Hogly Wogly's, Panorama City, CA: Since 1969 Hogly Wogly's has been the go-to place for BBQ in Panorama City. Brisket, ribs, and links with the right kind of bite can be finished off with its famous sweet potato pie all-a-mode.
Bludso's Bar & Que, Los Angeles, CA: This smoking hot BBQ joint in LA will have you singing its praise after the first bite. Be sure to try the sampler platter to find your favorite, then come back for more. Hint, the brisket alone is worth a visit.
When Pigs Fly, Vista, CA: Okay, bear with us for a moment because this BBQ joint is located in a Chevron gas station! Before you fall over dying of shock, you need to taste its award-winning brisket. After winning the Stagecoach Country Music Festival's "Grand Champion" award, owners Tammy and Dale have not looked back. Come for the brisket but don't skip the trip-tip, pulled pork, wings, and BBQ chicken either.