The Natural Waterpark In South Dakota That's The Perfect Place To Spend A Summer's Day
When the days get steamy, it's time to head for your favorite swimming hole. Here's a popular spot that's just like a waterpark, but Mother Nature warms it up for you, and instead of a concrete pool, you'll enjoy all-natural surroundings right here at the best natural water park in South Dakota.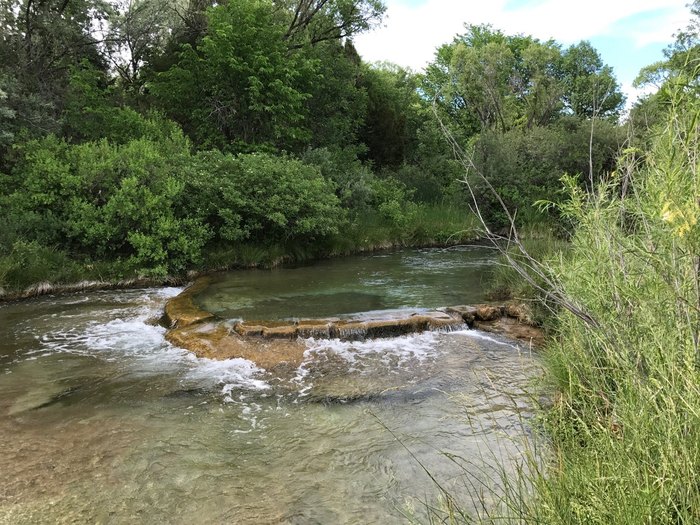 Address: Hot Springs, SD, 57747
Quick Hits: Best Natural Water Park in South Dakota
By Annie Sandmeier
What is a natural water park? A natural water park is just like it sounds: outdoor water fun that was created by mother nature instead of man. Much like the fun and colorful Watiki Waterpark or Splash Central, natural water parks also house slides and chutes, only much smaller and most likely made of smooth rock or another natural incline.
Are natural water parks in South Dakota clean? Thankfully, yes! Like other outdoor attractions, the conditions of the parks greatly depend on how visitors treat them, so be sure to always pick up your trash and anything else that could disturb this delicate environment. (A good rule of thumb? Always leave the place you're visiting even cleaner than it was when you arrived.)
What do I need to bring to a natural water park in South Dakota? As you may have already noticed, rattlesnakes and poison ivy are a huge hazard in the Cascade Falls area, so plan to wear boots or sneakers with socks anytime you are not in the water. We also recommend packing extra water to drink (being outside for long periods of time can dehydrate you quickly), sunscreen, and an extra change of clothes.
What else is there to do near Cascade Falls? Once you're finished playing in the water (and have picked up any stray trash you may encounter), head back to Hot Springs for a fun morning/afternoon/evening. Home to just under 4,000 residents, Hot Springs is a friendly town that is chock full of different things to do, like digging up ancient fossils at the Mammoth Site, hiking around the iconic Wind Cave, or even just visiting one of the many shops or restaurants around town.
Have you visited Cascade Falls? If you're looking for another cool swimming hole, you'll want to take this trail.
OnlyInYourState may earn compensation through affiliate links in this article.