9 Mistakes Everyone Makes When Visiting South Dakota's Badlands National Park
If you've never visited Badlands National Park in South Dakota, you'll likely make a few critical errors on your first trip. It's okay – most everyone does at least some of the following things. But you'll have a much more enjoyable trip if you avoid these nine mistakes.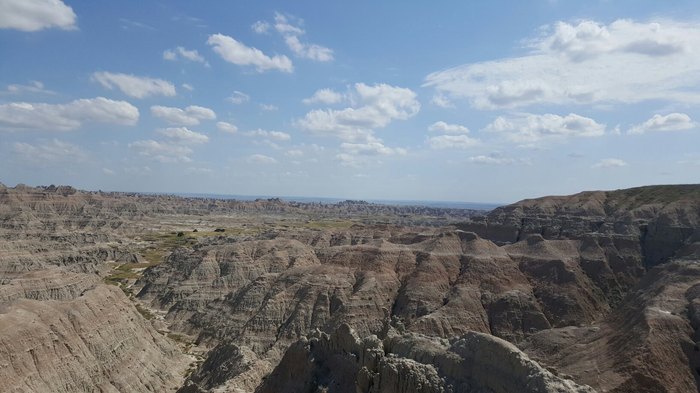 What other mistakes have you made while visiting Badlands National Park? We'd love to hear your advice for visiting this beautiful national park.
For more information about the park, visit the Badlands National Park website. And check out these gorgeous sunrises at Badlands National Park.
Address: Badlands National Park, South Dakota, USA
Badlands National Park In South Dakota
August 10, 2022
What are the best parks to visit in South Dakota?
Badlands National Park isn't the only place in South Dakota with beautiful scenery and trails to explore. In fact, South Dakota has over 50 state parks and recreational centers where you can get out and enjoy nature's beauty. Palisades State Park in Garretson has incredible cliffs and rock formations, for example, and you can go hiking and rock-climbing there. At Bear Butte State Park in Sturgis, you'll be awed by the serene beauty of a land which is considered sacred by many. For lakeside fun, try Hartford Beach State Park in Corona. Visit our guide to more of the best parks in South Dakota.
What are some good hiking trails in South Dakota?
There's nothing like a good hike, and there are plenty of trails to choose from in South Dakota, winding their way through diverse landscapes. If you're looking for a beautiful hike in the Black Hills, you can't beat Little Elk Creek Trail, with over seven miles of gorgeous views. Traveling alongside the creek, the trail will even lead you toward the stunning Dalton Lake, which you can reach if you keep traveling about a half mile after the trail's end. Harney Peak Trail in Custer is another excellent choice for beautiful views – plus mountain goats. Check out our article for more of the best hiking trails in South Dakota.
What are some other outdoor activities in South Dakota?
Hiking isn't the only way to enjoy the outdoors in the Mount Rushmore State. Camping, kayaking, fishing – there's plenty to do and see in the great outdoors. You can even visit man-made wonders like SculptureWalk in Sioux Falls, or Art Alley in Rapid City. Our article will help you find even more things to do outside in South Dakota.
Address: Badlands National Park, South Dakota, USA