Chislic Was Invented Here In South Dakota, And You Can Grab One From Mad Mary's Steakhouse In Pierre
Is there a SoDak food more iconic than delicious cured meat on a stick? (No. The answer is no.) Formally known as chislic, this tried and true South Dakota delicacy has a long and fascinating history that dates back to our German-Russian ancestors, who brought the concept to the States when they first immigrated generations ago. Let's learn more about the chislic origin in South Dakota: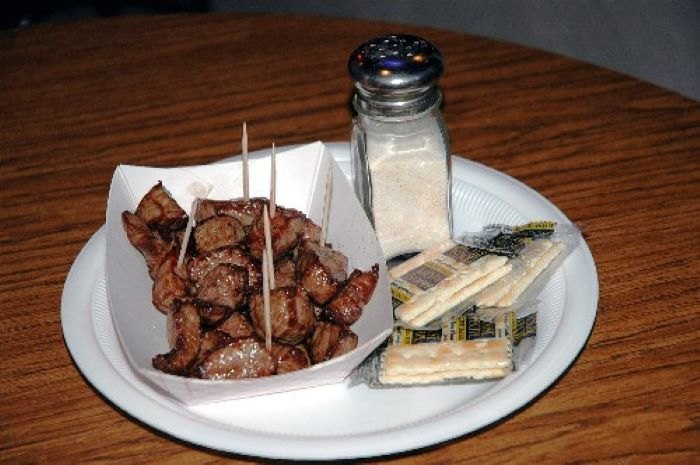 Did you ever imagine the chislic origin in the United States happened right here in South Dakota? Are you hungry for even more? If so, you will want to check out the chislic festival in South Dakota which is about the tastiest event you can experience.
Do you have a favorite restaurant, event, or attraction that you would like to see featured on Only in South Dakota? Nominate it here!
OnlyInYourState may earn compensation through affiliate links in this article. As an Amazon Associate, we earn from qualifying purchases.
More to Explore
More South Dakota Delectable Delights
What are some unique foods in South Dakota?
South Dakota may not be the culinary epicenter of the country, but you'll be surprised by how diverse our tastes can run. Here are some unique foods you'll find in South Dakota that you may not be familiar with:
Bierocks: These unique savory pastries are a yeast dough bread roll filled with pork, hamburger, or beef along with seasoned cabbage. In other parts of the country, they might be called runza, however, a runza is typically a square shape vs the round roll-shape of a bierock.
Chislic: We featured this iconic South Dakota dish above. However, there is certainly something mouth-watering about seasoned lamb or beef as it hits that hot sizzling oil.
Kuchen: To sweeten the deal, let's talk about South Dakota's state dessert. You probably need to try this pie-like pastry with rich custard baked over your favorite fruit.
Dimock Dairy Cheese: Dimock Cheese is a staple for South Dakotans as it is the oldest cheese factory in the state. If you love cheese, you'll love the variety of flavors from this iconic dairy.
Rocky Mountain Oysters: South Dakota has some of the biggest, um Rocky Mountain Oysters of any state - we wouldn't steer you wrong.
Kolache: The Kolache originated in Czechoslovakia and was introduced to Texas in the 1800s. It is also quite popular in other areas of the US where Central European immigration occurred. Many South Dakotans have Central European ancestry so it is no surprise this delicious pastry is quite popular here. Some of the most popular varieties of this pastry are filled with prunes, cherries, cream cheese, and apricots.
Indian Tacos: This variation of the taco is served on puffy fry bread using bison meat or ground beef. If you want a delicious Indian Taco head to Rosalie's Restaurant in Sisseton, SD.
Now that we have woken up your appetite, you'll probably want to hop in the RV and go on this BBQ road trip through South Dakota to some of the best places to get amazing pulled pork.
Related Articles
Featured Addresses

Mad Mary's Steakhouse & Saloon, 110 E Dakota Ave, Pierre, SD 57501, USA