The 10 Gorgeous Hikes Everyone In South Dakota Must Complete
South Dakota has tons of great hiking trails, and we love to feature them here. Today, we've compiled some of the best hikes in South Dakota so you have an outdoor bucket list for nearly every season. Under each short description, you'll find a link to our feature article with more photos and details.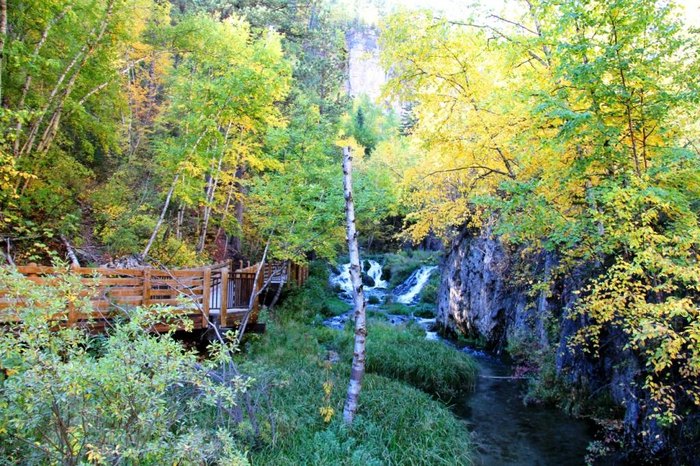 Which of these is on your hiking bucket list?
OnlyInYourState may earn compensation through affiliate links in this article.
More to Explore
Best Hikes in South Dakota
Which part of South Dakota has the best hiking? While every corner of South Dakota has pretty stellar hiking trails, our favorite area has to be the Black Hills. Why are the best hiking trails in South Dakota in the Black Hills? It is because of all the mountains, hills, and pristine scenery, of course! Whether you are wanting something short and sweet (like the previously mentioned Notch Trail), moderate (the historic Black Elk Peak Trail), or butt-busting (Sunday Gulch Trail, anyone?), you will find it in the beautiful Black Hills.
What are the best hikes near Mount Rushmore? Since Mount Rushmore falls within the Black Hills region, there are plenty of awesome hikes nearby. For starters, take the iconic Presidential Trail, which loops around Mount Rushmore and makes for one of the best scenic hikes in South Dakota. After that, we (again) recommend the Black Elk Peak Trail, which is not only a fun trail to follow, but ends with some killer mountain-top views. Finally, you will want to visit Horse Thief Lake, which is only 2 miles northwest of Mount Rushmore and offers not only trails, but also great camping and fishing.
What are the best hikes near Sioux Falls? While the Black Hills region has some marvelous hikes, our friends in Sioux Falls do, too. If you are craving a hike that will take you a million miles away from it all, walk one of the peaceful trails at Good Earth State Park. Do you love the hustle and bustle of the city? Then stay in Sioux Falls and follow the sidewalk-path along Falls Park. If you cannot get enough of the state's wildlife and various natural resources, the paths at The Outdoor Campus may be the perfect fit for you!
Related Articles
Explore South Dakota