These 9 Photos From South Dakota's Dust Bowl Will Break Your Heart
They called it the Dust Bowl and the Dirty Thirties, and it was a hard, hard time to be alive in South Dakota.
As the economy started to fail in the late 1920s, South Dakota farmers tried to compensate for low crop prices by planting more. The overworked land quickly became stressed and the soil lacked the nutrients needed to grow plants. Then the drought hit the state, bringing with it harsh winds and dust storms. From the early 1930s to the early '40s, South Dakotans struggled with one of the worst crises we had ever faced. While our state certainly wasn't the only place affected by the terrible drought and dust storms, it's a part of our history that those who lived through it will never forget. Take a look at the following photos of dust storms in South Dakota to see a glimpse of just how trying these years were.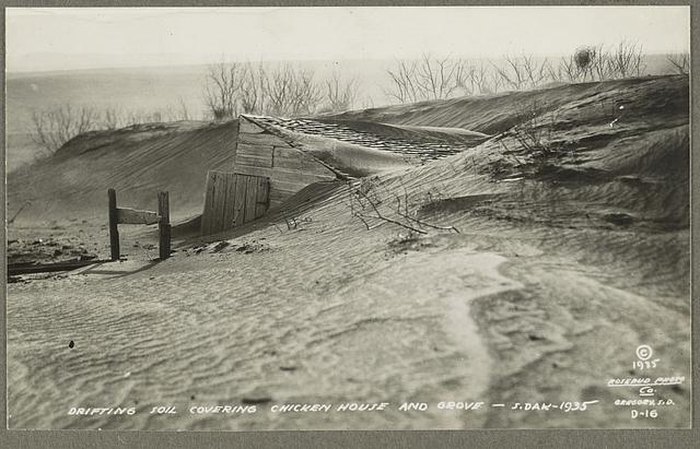 Do you have any family stories about dust storms in South Dakota? We'd love to hear them in the comments!
Our state's history is undeniably fascinating. For proof of this, here are some of the oldest photos ever taken in South Dakota.
OnlyInYourState may earn compensation through affiliate links in this article.
dust storms in South Dakota
July 10, 2022
What are the most interesting historical sites in South Dakota?
South Dakota is chock-full of history, and while not all of it is positive, it's undeniably important to our state and the people who have lived there for centuries. Whether you're a resident of South Dakota or simply passing through, there are tons of destinations that you can visit to learn more about the Mount Rushmore State. At the top of the list is Bear Butte in Meade County. Designated as a state park in 1961, this destination holds spiritual significance for the Plains Indian tribes. In fact, there have been artifacts found here that date back 10,000 years. When you visit, you can look forward to learning about the history of the area as well as hiking, fishing, camping, and horseback riding. Another unique place to visit is the Deadwood Historic District in Lawrence County. You'll feel like you've traveled back in time the moment you set foot in this historic region. Back in the day, saloons and gambling houses were common. Some other historical sites in South Dakota worth visiting include Blood Run Site, Wounded Knee National Historic Landmark, Minuteman Missile National Historic Site, Mount Rushmore National Memorial, Crazy Horse Memorial, USS South Dakota Battleship Memorial, and Jewel Cave National Monument. How many of these famous historic sites in South Dakota have you experienced?
Where can I go in South Dakota that only the locals know about?
Are you curious to experience South Dakota as the locals do? Well, you've come to the right place! We've scouted out some off-the-beaten-path destinations in South Dakota that you're sure to love. These destinations include Good Earth State Park, McCrory Gardens, Hidden Hill Lodge, Sage Creek Wilderness Area, the Minuteman Missle Historical Site, PaleoAdventures, Terrace Park, Little Elk Cottage, and Palisades State Park. Learn more about these hidden gems in South Dakota that you're sure to love!