The Terrifying South Carolina Lowcountry Road Trip Is Haunting Good Fun
A while back, we published the Ultimate South Carolina Waterfalls Road Trip and got an overwhelming response. Since all of those waterfall stops were in the Upstate, we decided to put together a haunted South Carolina Lowcountry road trip.
South Carolina has such intense history it's no wonder there are so many reported hauntings. We picked out seven terrifying haunted places with relatively easy access and created this easy to follow route. The total trip is 234 miles with an estimated five hours and fifteen minutes of drive time. We've included a link to the Google Map here. (One note: if you see a no trespassing sign, please heed the notice and don't trespass; it's against the law.)
Do you have five hours – plus the time you'll spend exploring the hauntings at these sites?  We've got the Google map here – if you have the time, South Carolina. Let's hit the road for The Ultimate Terrifying South Carolina Lowcountry Road Trip!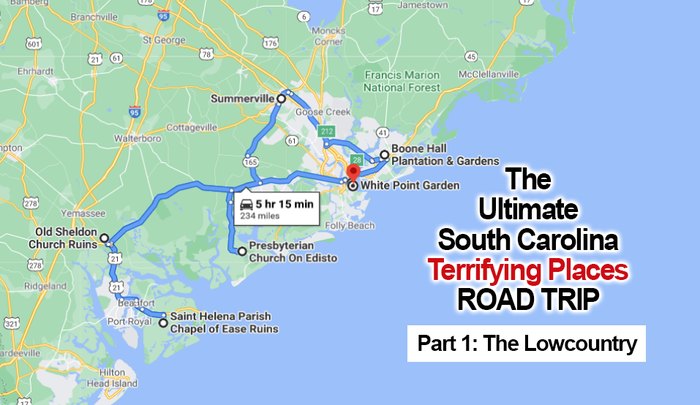 Have you visited any of these locations and did you know they are reportedly haunted? Who's up for a terrifying road trip?
OnlyInYourState may earn compensation through affiliate links in this article. As an Amazon Associate, we earn from qualifying purchases.
More to Explore
Haunted South Carolina Lowcountry Road Trip
What is the most haunted place in South Carolina?
There is no shortage of haunted places in South Carolina, but which ones are full of the most ghostly spirits? According to some, it may be Fort Fremont. The ruins of the fort are eerie enough on their own, but after you hear about the many paranormal experiences people have had here, this place will send shivers down your spine. There are numerous ghosts that are said to walk the grounds of this historic park, from the spirits of slaves to the restless ghosts of soldiers. Ghost hunters have scanned the area with EVPs and found possible evidence of lingering spirits. Learn more about Fort Fremont here.
What are the most popular ghost stories in South Carolina?
You might have heard some of the many South Carolina ghost stories about various parts of the state. One of the most haunted areas is thought to be Charleston, and there are quite a few tales of the paranormal there. It's a very popular place for paranormal investigators. For example, the ghost that is said to live in the Dock Street Theatre, a building that's been around for over 200 years. Ghosts are said to hang out in the rafters or even be seen in glimpses on the stage. We've put together an entire list of 9 popular Charleston ghost stories for more spooky tales from the oldest city in the state.
What are the creepiest places in South Carolina?
If you're feeling brave, here are some creepy places in South Carolina to explore. The Baynard Plantation on Hiltons Head is just ruins now, but terrifying ones at that - especially at night. Legend has it that you can hear or catch glimpses of a funeral for William Baynard there. Another spooky place that few dare to visit after dark is Crybaby Bridge in Anderson, South Carolina. Considered one of the most haunted spots in the state, if you really want to give yourself a scare, visit the bridge at night and turn your car off and just listen. It's said you can hear the wails of a baby and see a ghostly mother figure on the bridge.
Related Articles
Explore South Carolina
Featured Addresses

Charleston, SC 29401, USA

Old Charleston Jail, 21 Magazine St, Charleston, SC 29401, USA

Presbyterian Church On Edisto, 2164 SC-174, Edisto Island, SC 29438, USA

Saint Helena Parish Chapel of Ease Ruins, St Helena Island, SC 29920, USA

Old Sheldon Church Ruins, Old Sheldon Church Rd, Yemassee, SC 29945, USA

1046 Strawberry Chapel Rd, Moncks Corner, SC 29461, USA

Boone Hall Plantation & Gardens, 1235 Long Point Rd, Mt Pleasant, SC 29464, USA