This Natural Wonders Road Trip Will Show You South Carolina Like You've Never Seen It Before
From the gorgeous views in the foothills to the ACE Basin, South Carolina delivers BIG in the category of natural wonders. It comes as no surprise that tourism is such a big industry in the Palmetto State when there is just so much to see and do! Take this "Natural Wonders" road trip in South Carolina, and you'll see the Palmetto State like you've never seen it before.
Here's a link to the Google Map that'll guide you to your locations, and you can alter it as well if you'd like to.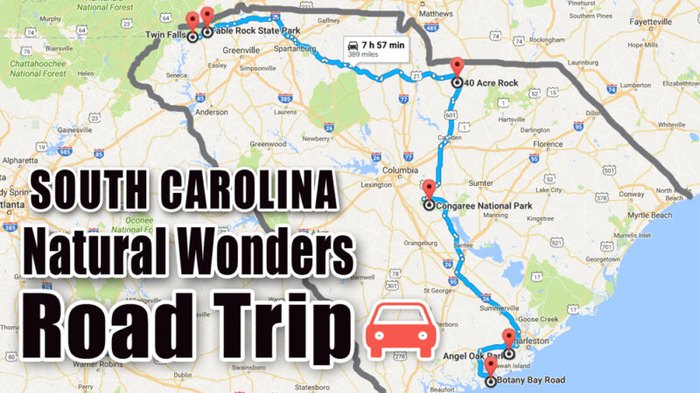 This Natural Wonders Road Trip through South Carolina is sure to show you this state like you've never seen it before. If you decide to make a weekend of it, you can spend the night at the halfway point in Columbia or Camden. Gas up the car and let's hit the road!
If you're keen on seeing more of the state via road trips, you'll love the Ultimate Waterfalls Road Trip In South Carolina.
Address: Botany Bay Plantation Heritage Preserve/Wildlife Management Area, 1066 Botany Bay Rd, Edisto Island, SC 29438, USA
Address: 3688 Angel Oak Rd, Johns Island, SC 29455, USA
Address: Congaree National Park, 100 National Park Rd, Hopkins, SC 29061, USA
Address: 40 Acre Rock Heritage Preserve, 2207 Conservancy Rd, Kershaw, SC 29067, USA
Address: Table Rock State Park, 158 E Ellison Ln, Pickens, SC 29671, USA
Address: Twin Falls Trail, Waterfalls Rd, Sunset, SC 29685, USA
Natural Wonders in South Carolina
February 23, 2021
What are the most beautiful places in South Carolina?
South Carolina is a diverse state with a ton and a half of amazing, beautiful places that you definitely need to visit! Some of our favorites include such breathtaking places as the cypress gardens in Moncks Corner, which isn't just beautiful on its own – it's also got an amazing butterfly garden, too! Yellow Branch Falls in Walhalla are so insanely beautiful that they deserve a mention – it's a 50-foot-high waterfall that, for most of the year, flows in bits and pieces. It's incredible. In Salem, you'll find Lake Jocassee – stunning beautiful and oh-so-blue. If you'd like a longer list of some of our favorite beautiful places in South Carolina, check this article out!
What are some things to see in South Carolina?
Oh, man, where to start! The state of South Carolina doesn't get nearly enough credit for its dynamic landscapes and fascinating history. Caesar's Head State Park offers up some amazing views of the Pinnacle Mountains and Table Rock. If lighthouses and maritime life are your thing, you can't miss the Hilton Head Lighthouse in – you guessed it – Hilton Head, South Carolina. The Old Sheldon Church – or church ruins, more like – is a must-see. Of course, the above natural wonders in South Carolina are also must-see spots in the state!
Where are some popular hiking trails in South Carolina?
South Carolina is home to literally hundreds of amazing hiking trails, so it's definitely hard to pick just a few. However, there are some that are commonly mentioned as being among the best, including Table Rock Trail, at Table Rock State Park, Rainbow Falls Trail at Jones Gap State Park (waterfalls!), and Sulphur Springs Trail, at Paris Mountain State Park. No matter what kind of landscape you fancy, you'll probably find it on one of the more than 600 available trails!
Address: Botany Bay Plantation Heritage Preserve/Wildlife Management Area, 1066 Botany Bay Rd, Edisto Island, SC 29438, USA
Address: 3688 Angel Oak Rd, Johns Island, SC 29455, USA
Address: Congaree National Park, 100 National Park Rd, Hopkins, SC 29061, USA
Address: 40 Acre Rock Heritage Preserve, 2207 Conservancy Rd, Kershaw, SC 29067, USA
Address: Table Rock State Park, 158 E Ellison Ln, Pickens, SC 29671, USA
Address: Twin Falls Trail, Waterfalls Rd, Sunset, SC 29685, USA