This Haunting Road Trip Through South Carolina Ghost Towns Is One You Won't Forget
Who's up for a ROAD TRIP through some of the spookiest ghost towns in South Carolina? Unlike some places in the midwestern U.S., South Carolina only has a handful of ghost towns that have been mapped or documented with photos. And then, of course, there are those other towns that have been reported as bonafide ghost towns, but they are still very much alive with actual people living in them, even though the towns are slowly fading. The ghost towns on this road trip are from the first group; they are gone and only small tokens remain.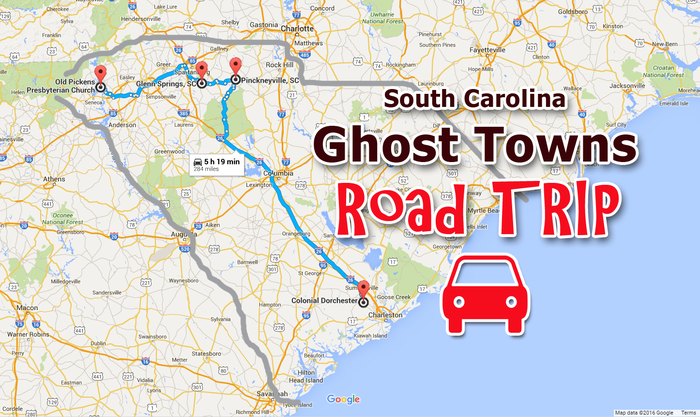 Want to learn more about one of these ghost towns? Read: This Creepy Ghost Town In South Carolina Is The Stuff Nightmares Are Made Of.
Address: Pinckneyville, SC, USA
Address: 149 SC-183, Seneca, SC 29672, USA
Address: Glenn Springs, SC 29302, USA
Address: Colonial Dorchester State Historic Site, 300 State Park Rd, Summerville, SC 29485, USA
ghost towns in south carolina
May 20, 2020
What are the creepiest places in South Carolina?
When it comes to the paranormal, there are some haunted places in South Carolina that might just be the creepiest of them all. One of the oldest performance theaters in the US, the Dock Street Theatre in Charleston, is home to multiple restless spirits that have lingered long after their deaths. One of those spirits is supposedly that of John Wilkes Booth's father, Junius Booth. You can take a ghost tour of the theatre to see if you spot him wandering the halls – if you're brave enough. Another spooky spot in SC is definitely the small town of Hilda, where people say they often hear a nearby train – whistle, rumbling, and all – despite the fact that the tracks have been removed for decades. They call it a ghost train, and it's beyond creepy.
What is the most haunted place in South Carolina?
There are quite a few abandoned places in South Carolina that are supposedly haunted, but a certain location of fort ruins definitely takes the cake as the most haunted. Fort Fremont, located on St. Helena Island, has been empty and falling to ruin for decades since it was deactivated in 1912. According to the many myths and legends that surround the spooky-looking buildings, many lingering spirits haunt the place. The ghosts of soldiers, slaves, and more are apparently stuck here for eternity. There is even a ghost car that you might encounter if you visit late at night, with a distant light that seems like headlights coming towards you and passing but no car being there.
What are the most popular ghost stories in South Carolina?
If you're feeling brave enough to hear some South Carolina ghost stories, there are quite a few. They'll make you want to keep your lights on at night and include everything from the infamous Gray Man, Booger Jim, a headless woman, and more spine-chilling stories. Read some of these spooky tales by clicking here.
Address: Pinckneyville, SC, USA
Address: 149 SC-183, Seneca, SC 29672, USA
Address: Glenn Springs, SC 29302, USA
Address: Colonial Dorchester State Historic Site, 300 State Park Rd, Summerville, SC 29485, USA