Charleston Was Once Named The BEST City In The World…And We Couldn't Agree More
The first time since, well, EVER, readers of Travel & Leisure ranked an American city the Number One City In The World. That's right. Step aside Paris, Sydney, Vienna, and Florence. Charleston, South Carolina was the 2016 Number One City In The World and we've been shouting it from the rooftops ever since because we couldn't be more proud of the Holy City. It truly is the best city to visit in South Carolina.
In recent decades Charleston has faced natural disasters (Hurricane Hugo), a devastating blow to the economy (the 1996 closure of the Navy Base in North Charleston), and personal inconsolable tragedies (among them, the 2015 shootings at Emanuel AME Church). With each and every hit, this city, its people and its government have not only prevailed but have conquered what seemed to be the impossible. But with Grace, anything is possible.
Here are some of the things we find most charming, alluring, delectable and well, amazing about the Number One City In The World.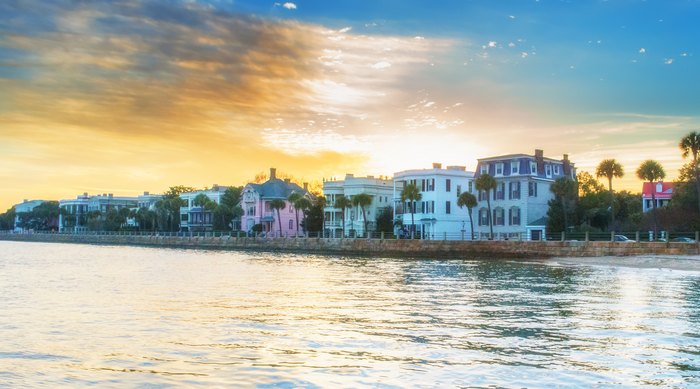 With all her charm and decadence, Charleston makes it look easy to be perfect and wonderful. Just like a long lost love, she has a way of captivating your soul and leaving you to want more. And so, we raise our glass to Charleston, South Carolina. You've managed to capture the hearts of the entire world. It really is the best city to visit in South Carolina. Cheers!
If you're looking for some lesser-known and underrated towns in South Carolina to visit, follow the link!
Address: Charleston, SC, USA
OnlyInYourState may earn compensation through affiliate links in this article.
Best City To Visit In South Carolina
June 04, 2020
What are the most beautiful places in South Carolina?
With so many beautiful things to do in Charleston alone, it's hard to imagine there are even more gorgeous spots in South Carolina, yet there definitely is. Spots like the Yellow Branch Falls, located near Walhalla, are magnificent to behold. The cascading falls look like something out of a movie, and you can see them for yourself by taking a picturesque hike. Then you can explore one of the most scenic gardens in SC by visiting the Cypress Gardens. Not only are the grounds and butterfly garden stunning, but you can even take a swamp tour through the cypress trees.
Which hidden gems in South Carolina should I visit?
If you're trying to find places to travel in South Carolina, consider some of the state's lesser-known hidden gems. Spots like the ACE Basin National Wildlife Refuge will give you a glimpse into one of the most beautiful natural areas of the state. The marsh lowlands there are easily worthy of being on a postcard, yet not as many people know about it. Another unique spot is the site of the oldest bridge in the state. It was built in 1820 and there is a 120-acre park around it to preserve the site's history and gorgeous scenery. It's located in Greenville County, near Landrum.
What are the oldest towns in South Carolina?
It's no question that Charleston is a well-loved historic city in South Carolina, but it's not the only place in the Palmetto State that's rich with history. Charleston is in fact the oldest, but places like Mount Pleasant aren't too far behind. Mount Pleasant had settlers there as early as 1680 and is actually one of the fastest-growing places in South Carolina today. Beaufort is the second oldest town in the state since it was incorporated in 1711. The historic district is a treat to visit, especially with some of the enchanting historic homes within it.
Address: Charleston, SC, USA
OnlyInYourState may earn compensation through affiliate links in this article.