11 Stops Everyone Must Make Along South Carolina's BBQ Trail
As the birthplace of barbecue, South Carolina is naturally included in the great American BBQ Belt, which is found in both of the Carolinas, Texas, Kentucky, Alabama, Missouri's Kansas City, and Tennessee's Memphis. Our state's BBQ Trail includes many restaurants throughout each region of the state, some of which are absolute must-visit stops. The ones we are featuring below include restaurants along the BBQ Trail in South Carolina that serve all four of the basic barbecue sauces. This is the only state in the country where you can enjoy all four sauces. And not only did we narrow our spots to restaurants serving all four sauces, but we also included only those places with a 4.5-star Google Reviews rating or higher. So pack your bags and let's get started on this delicious journey to experience some of the best barbecue of your life!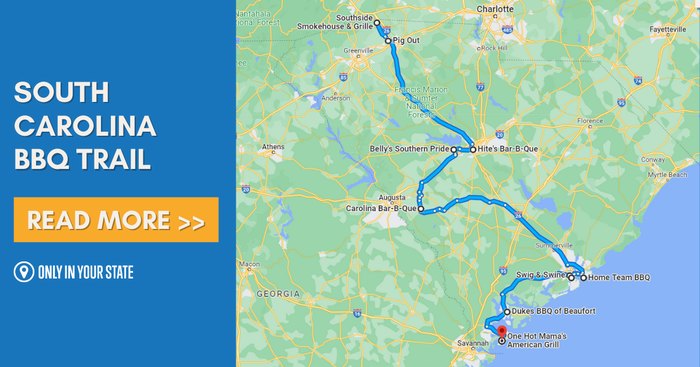 See the South Carolina BBQ Trail Map for the complete listing of all spots throughout the state, but be advised that some of these eateries are sadly no longer open. In fact, about one-third of the restaurants serving all four types of BBQ sauces have closed, thus, reducing the number of potential stops we could include in this list.
With so many places to eat, you may want to stretch this trip out over several days. If you'd like to break it up and spend the night at a couple of places along the way, we suggest the most famous historic hotel in South Carolina for your first night. There's another great BBQ spot there, Dukes Bar-B-Que, that is currently closed for renovations but planning to re-open during the first half of 2023. If you are taking this trip after that point you could always stop by there as well! For your second night, try the oldest hotel in South Carolina after eating at the Charleston spots if you're up for a stay in a haunted hotel.
Have you heard of or eaten at any of these BBQ spots in South Carolina before? Which BBQ sauce is your favorite? Share with us in the comments section below!
OnlyInYourState may earn compensation through affiliate links in this article.