The Remnants Of This Abandoned Theme Park In South Carolina Are Hauntingly Beautiful
Heritage USA is an abandoned theme park in South Carolina, sitting in plain view — and it's hauntingly beautiful. Many remember the former Heritage USA theme park and water park in South Carolina. In its heyday, the park was 2,300 acres and included everything from a waterpark and Main Street USA, to a chapel, a skating rink, an amphitheater, and a campground. Today, the Charlotte suburb of Fort Mill, South Carolina has grown so much that what was once a thriving theme park, now eerily has ruins and remnants still standing amidst the new development. If you've ever found yourself wondering "what happened to Heritage USA?" we have the answers. Take a look.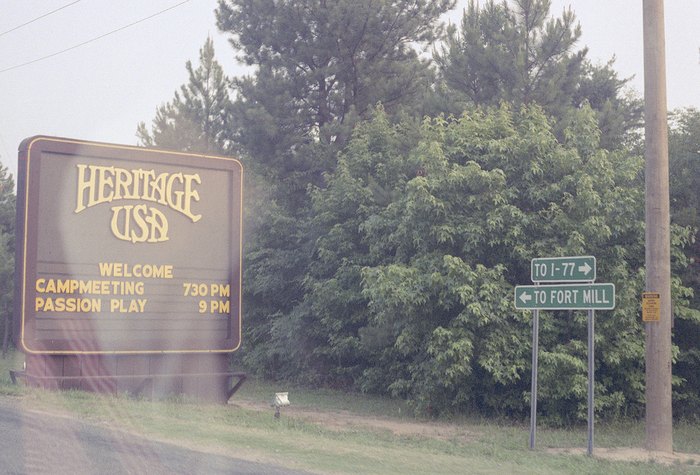 The remains of Heritage USA are still around in Fort Mill. It's a sad and eerie feeling to see the ruins and remnants of this park amid so much new growth springing up. Do you remember Heritage USA? What were your favorite things about this Christian theme park in South Carolina… did you ever visit, or know anyone who did? We'd love to know in our comments!
There are lots of intriguing historic sites and abandoned places in SC. If you love exploring ruins, you'll love seeing the photos of this abandoned plantation in the Palmetto State. And if you're up for an epic tour de force of all things abandoned in South Carolina, definitely check out this road trip we put together.
OnlyInYourState may earn compensation through affiliate links in this article.
Address: Fort Mill, SC, USA
Heritage USA
May 04, 2022
Is Heritage USA the only abandoned theme park in South Carolina?
Absolutely not! We've featured abandoned places on Only In South Carolina before, like the Bon Haven mansion in Spartanburg and the infamous abandoned asylum in Columbia, but did you know that there is an entire neighborhood that was mysteriously abandoned in the Palmetto State? In a sense, you could almost call it a ghost town, even though it was never really an official town. Back in the 1930s, this neighborhood in Lee County, South Carolina, became known as "Ashwood Plantation." It was developed as part of the New Deal's "Resettlement Act" during the Roosevelt Administration. The project was an effort to resettle families in hardship onto farmland. In all, Ashwood Plantation boasted 11,336 acres with at least 153 homes, some of them brand new, others newly remodeled. The project included 745 acres dedicated to a school and gymnasium. It also built and developed community services, including a cotton gin, livestock corral, and loading chute, hatchery and brooder, sweet potato curing plant, feed and grist mill, general store, repair shop, garage, and a gas station. In other words, Ashwood was designed to be a thriving and bustling community, but sometime in the late '30s and '40s, pretty much everyone had up and left.
What are some other abandoned places near me in South Carolina?
If you're into exploring the forsaken and abandoned, this abandoned places road trip through South Carolina is for you! If you enjoyed learning about Heritage USA, the abandoned theme park in South Carolina, you'll be delighted to learn that this road trip ventures to Springs Recreation Park, another abandoned park in the Palmetto State with a similar story. This road trip ventures straight through the heart of South Carolina, in fact, so there are sure to be some awesome abandoned places to explore in your neck of the woods!