Visit 8 Christmas Lights Displays In South Carolina For A Magical Experience
'Tis the season – and we couldn't be more delighted! The holidays in South Carolina are filled with an abundance of activities geared toward family togetherness. Whether you're on a shopping adventure, dining out, or just spending time with family, the holidays are a magical time of year. Few things foster togetherness quite like piling everyone into the same car for the night and heading out to see the best Christmas lights in South Carolina. Here are several awesome Christmas light displays, both commercial and private, guaranteed to add spark to your holiday season.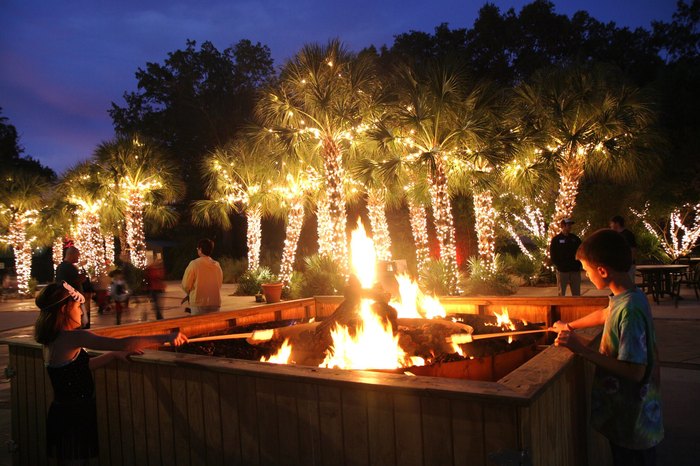 These are some of the best Christmas lights in South Carolina this year, and they're sure to spread holiday cheer far and wide. Do you know of a private residence that's decked the property with oodles of twinkling lights this year? Let us know in the comments!
For more things to do at Christmas in South Carolina, Here Are The Top 15 Christmas towns in South Carolina.
OnlyInYourState may earn compensation through affiliate links in this article.
Best Christmas Light Displays In South Carolina
December 03, 2019
What is the largest Christmas lights display in South Carolina?
The largest Christmas lights display in South Carolina features millions of sparkling lights and more than 750 light displays viewed on a drive-through loop through the James Island County Park in Charleston. The Holiday Festival of Lights first opened in 1990 and is now beginning its fourth decade. In addition to the drive-through lights displays, the event also features many family-oriented activities. Visit Santa, ride the Festival Train, roast marshmallows and make s'mores, hop aboard the old-fashioned Carousel, shop for gifts, and even dine on burgers and more at Santa's Sweet Shoppe. The Holiday Festival of Lights at James Island County Park in Charleston is widely and routinely recognized as one of the best Christmas holiday lights events in the nation.
Too far from Charleston to make the journey this year? Then head over to Inman, to the most unique Christmas lights display in all of South Carolina at Hollywild Animal Preserve. Once open to the public, Hollywild is now a private, non-profit animal preserve that's generally closed to the public but opens for one event per year. Their annual Christmas Lights Safari is unlike any other drive-through lights display and features an add-on drive through the Deer Forest, where visitors can hand-feed the animals from the comforts of their own vehicle. Hand-feed giraffes, buffalo, deer, and more. And then head to Mrs. Claus' attic and the Christmas Village for even more fun.
What is there to do at Christmas in South Carolina?
There are plenty of things to do at Christmas in South Carolina! Fortunately, they're all designed for celebrating the season and bringing families together. Embark on a Christmas lights road trip to see the best of the best over a series of nights during the month of December. Go shopping at an eclectic Christmas market. Go see a holiday play. Take the Santa Express train ride at the South Carolina Railroad Museum, have breakfast with Santa in a variety of places throughout South Carolina, and take a holiday house tour through festively decorated historic homes in a number of cities throughout the state.
What are the best Christmas towns in South Carolina?
By far, the best Christmas town in South Carolina is Rock Hill. Each year during the Christmas season, Rock Hill transforms the Old Town into ChristmasVille in Rock Hill for three days of rockin' holiday fun. The streets close down and the fun begins with vendors galore, food (think giant turkey legs) and drinks, performances on a number of stages, a Christmas train, and special appearances by Santa. If you've never visited ChristmasVille in Rock Hill, then you've been missing out.
Another wonderful Christmas town in South Carolina, Greenville has a Main Street that is the best Main Street to visit during the holiday season. Twinkling lights grace the many trees that line this cozy street in the Upstate and the windows of retailers are adorned with holiday decor... it's one of the prettiest views ever. Over at the Marriott, there's a huge (real) ice skating rink right on Main. Ice on Main is a must for anyone visiting Greenville at Christmastime. On Saturdays during December, Greenville's Main Street hosts a farmers' market that gets all decked out for the holidays. It's also a must-visit. And of course, no trip to Main Street in Greenville would be complete without a walk through the stunning Falls Park on the Reedy or a stroll across Liberty Bridge, both found at the bottom of Main Street at the Reedy River.