These 14 Incredible Hiking Spots in South Carolina Are Out Of This World
South Carolina is, by its perfect location, a hiker's delight. From the mountains of the upstate to the lowlands of the coast and coastal islands, South Carolina is rife with hiking trails for every experience level. We recommend you get out that backpack and lace up those boots because we have the 14 best hiking trails in South Carolina that are sure to please!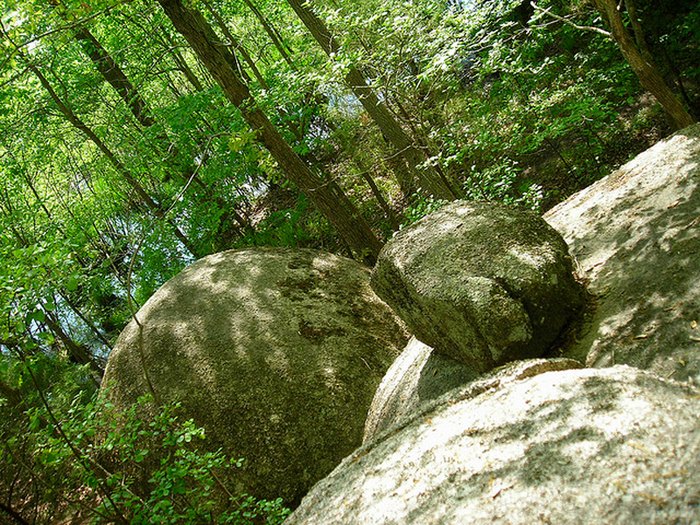 Don't you want to get out those hiking shoes now after reading about the best hiking trails in South Carolina? I know I do! For me, there is nothing better than getting in the middle of nature. My stress goes way down while my happiness reaches beyond the skies. The great part of it is South Carolina has every level of nature enthusiast covered from easy to difficult trails.
With all the State Parks and hidden trails, I'm sure I have missed someone's favorite so I encourage you to share your favorite by nominating it here. Happy Hiking!
OnlyInYourState may earn compensation through affiliate links in this article.
Address: 40 Acre Rock Heritage Preserve, 2207 Conservancy Rd, Kershaw, SC 29067, USA
Address: Congaree National Park, South Carolina, USA
Address: Audubon's Beidler Forest Sanctuary, 336 Sanctuary Rd #3324, Harleyville, SC 29448, USA
Address: 851 SC-107, Mountain Rest, SC 29664, USA
Address: Jones Gap State Park, 303 Jones Gap Rd, Marietta, SC 29661, USA
Address: Paris Mountain State Park, 2401 State Park Rd, Greenville, SC 29609, USA
Address: Peachtree Rock Heritage Preserve, 883 Peachtree Rock Rd, Lexington, SC 29073, USA
Address: Raven Cliff Falls Trailhead, Geer Hwy, Cleveland, SC 29635, USA
Address: 1391 F Van Clayton Memorial Hwy, Sunset, SC 29685, USA
Address: Sesquicentennial State Park, 9564 Two Notch Rd, Columbia, SC 29223, USA
Address: Table Rock State Park, 158 E Ellison Ln, Pickens, SC 29671, USA
Address: Poinsett State Park, 6660 Poinsett Park Rd, Wedgefield, SC 29168, USA
Address: Bull Island, South Carolina 29429, USA
Address: Cedar Falls Park, 201 Cedar Falls Rd, Fountain Inn, SC 29644, USA
Best Hiking Trails In South Carolina
June 05, 2020
What are the best hikes with a view in South Carolina?
There are many scenic trails in South Carolina that'll give you an amazing look at the state's landscapes. You can view multiple stunning waterfalls in one hike by taking the Wildcat Wayside Trail located just off of the Cherokee Foothills Scenic Byway, near Cleveland, SC. The trail starts with a roadside waterfall and then takes you to two more lovely falls, all in one convenient loop. Take an incredible hike on Folly Island with a view of a lighthouse as a reward. The entire walk is on a paved road and is a mere 0.33 miles, with a picture-perfect view of the Morris Island Lighthouse awaiting you at the end.
Which state parks should I visit in South Carolina?
You can experience some of the most beautiful spots in South Carolina by visiting some of the state's awesome state parks. Hunting Island State Park is one of the most visited ones in the state for a good reason - people love the natural beauty, wildlife, lighthouse views, and everything else it has to offer. Kings Mountain State Park is great if you want to see "living history." The historic farm there includes a barn, carpenter, blacksmith, and cotton gin, and it'll take you back in time. For a fun day in the sun, try Lake Hartwell State Park. This park is ideal for swimming, boating, and fishing. Whether you go out on a boat or enjoy it from the shores or dock, it's perfect for a memorable summer day.
Which hikes in South Carolina are short and sweet?
You can take an outdoor adventure in South Carolina with the whole family, whether or not you're all expert hikers or casual strollers. There are short, easy hikes with equally as worthy views as longer treks here. The Glassy Mountain Trail, located near Pickens, SC, is only 1.3 miles and great for families with kids. It's a bit uphill but will take you to a spot where you can see for miles and miles. The Jomeokee Trail is great for a bit of a workout while only being just under a mile in length. It's located on the Pilot Mountain and has out-of-this-world panoramic views of the surrounding area. Paris Mountain State Park has a great trail for beginners, the Lake Placid Loop, that is 0.8 miles and will take you to some of the prettiest spots in the park.