It's Time For Apple Picking (And Apple Donuts) At Pippin Orchard In Rhode Island
Fall is in the air, and we couldn't be happier. And while some of our autumn traditions might look a bit different this year, we are pleased to report that the beloved Pippin Apple Orchard is open for business and ready to host you. Apple picking is a social distance-friendly activity — and for the record, so is apple donut-eating. Why not enjoy fall in Rhode Island, which is perhaps the best state in New England, especially during autumn.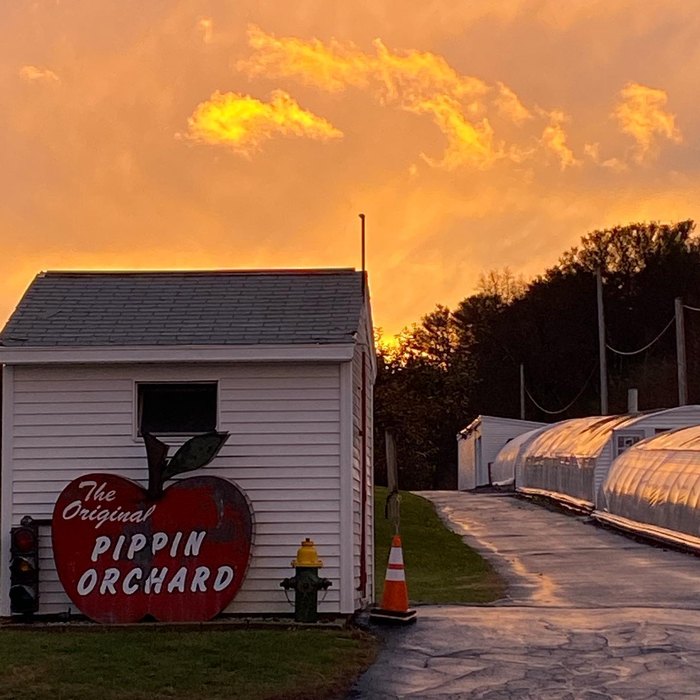 Have you ever been apple picking at Pippin Orchard? You can stay up to date on the farm's schedule by checking out their Facebook page.
Address: 751 Pippin Orchard Rd, Cranston, RI 02921, USA
OnlyInYourState may earn compensation through affiliate links in this article.
What Makes Rhode Island The Ideal Autumn Destination?
September 12, 2022
Why is Rhode Island such an amazing autumn destination?
Rhode Island is mainly known as something used to compare size with other areas, however, residents here know that it's perhaps the best place to be in the fall. Pippin Orchard in Rhode Island is wonderful, but just one of many options. The New England area is known for the gorgeous array of colors when the leaves start to change and Rhode Island is packed with sightseeing locations where you can hike among the trees, surrounded by a palette of autumn colors. Tons of farms make themselves available for people to pick their own fresh produce and locals love to adorn their front porches with pumpkins, squash, and gourds to celebrate the season. Imagine the delicious meals you can make with such fresh ingredients!
What kinds of tours are available to get to see the most of Rhode Island?
There is a great variety of available tours! Art tours like the St. Ann Arts and Cultural Center and Gallery Night Providence will show you local art. There are culinary tours like Taste of Rhode Island and the Newport Neighborhood Food Tour. History buffs will enjoy Historic Tours for Curious People. Halloween is a perfect time of the year to do a spooky ghost tour. There are also nature tours, sightseeing tours, garden tours, and so much more. While the state may not be the biggest, it is densely packed with history, natural beauty, delicious food, and all kinds of activities for the whole family to enjoy.
What are the best fall festivals in Rhode Island?
There are more fall festivals than you might imagine! Every October, Autumnfest in Woonsocket brings music, rides, delicious food, crafts, and a parade to thousands of visitors. On Halloween you can see the Jack-O-Lantern Spectacular where there are intricately carved pumpkins on display done by some truly amazing artists. Craft beer lovers will certainly enjoy Beervana Fest where you can sample some of the best beers in the world. If you visit Pippin Orchard in Rhode Island the fall, try to time it with the Johnston Apple Festival only a 15-min drive away. There are several harvest festivals well worth checking out.
Address: 751 Pippin Orchard Rd, Cranston, RI 02921, USA
OnlyInYourState may earn compensation through affiliate links in this article.