Drone Footage Captured At This Abandoned Rhode Island Train Station Is Truly Grim
Do you fancy yourself an urban explorer who is fascinated with abandoned places? Rhode Island has a handful of spots that are being reclaimed by nature. One such place is the Pawtucket-Central Falls Station. What was once a busy transportation hub, now stands empty and crumbling. With this incredible drone footage, see for yourself what makes this abandoned train station in Rhode Island such a fascinating hidden gem. If you're anything like us, you'll find that these Pawtucket-Central Falls Train Station photos are positively captivating!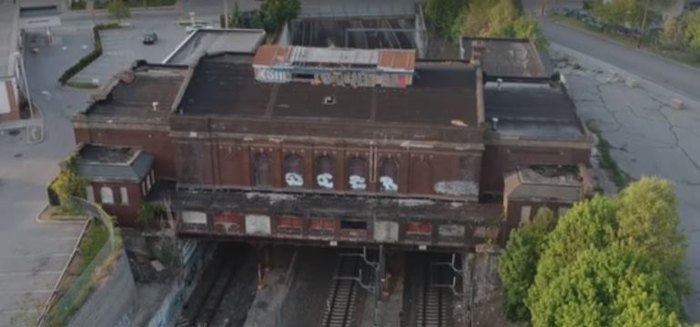 The deteriorating Pawtucket-Central Falls Station continues to crumble a little bit each day. We don't recommend attempting to explore it yourself due to safety and legal reasons. However, you can get a bird's eye view of this abandoned spot in this video by Rhode Island-based filmmaker, Jason Allard.
Did you ever take a train out of this station when it was in use or know someone that did? Share with us any stories you may have about this abandoned train station in Rhode Island in the comments section!
If you love seeking out abandoned places, you can take a hike to these ruins of an estate for some hauntingly beautiful scenery as well. Or, make sure to check out these 15 creepy places in Rhode Island that you can actually visit…if you're brave enough, of course.
See more work by Jason Allard at Youtube.com/JasonAllard or www.UncomSenseMedia.com.
OnlyInYourState may earn compensation through affiliate links in this article.
More to Explore
Abandoned Train Station In Rhode Island
Can I visit any abandoned places in Rhode Island?
While we appreciate the flyover drone footage of the abandoned Pawtucket-Central Falls Station, are there any other abandoned places in Rhode Island that visitors can check out? The answer is a resounding yes. There are a handful of creepy places in Rhode Island worth checking out and we've put them all into one comprehensive road trip. This road trip will take you to some of Rhode Island's coolest abandoned places. Start at the famous Milk Jug in Manville, just be warned this is on private property so you can only really enjoy it from the road. Then end up at The Bells at Brenton Point in Newport, which is an old carriage house that is slowly being consumed by nature.
What are the most popular ghost stories in Rhode Island?
If visiting creepy places in Rhode Island isn't really your thing, then maybe instead you'll get a kick out of hearing a few ghost stories. Some may say that Rhode Island is one of the most haunted states in America and rightly so. With stories like these, who would deny it?! We rustled up eight truly terrifying ghost stories that prove Rhode Island is a haunting gem. Just make sure you're ready for these chilling tales!
Are there any ghost towns in Rhode Island?
Ghost towns and abandoned places in Rhode Island are usually not the same thing, believe it or not. Ghost towns often still have a few residents or simply a smaller population. However, in this case, this ghost town in Rhode Island actually is abandoned. Anyone who wanders down the Canton City trail in Rhode Island will come across the remains of Hanton City. Formed in the late 1700s, this settlement has a bit of a sordid past and even a mysterious one at that. Have you ever visited the ruins of this abandoned Rhode Island ghost town?
Related Articles
Explore Rhode Island
Featured Addresses

Central Falls, RI 02863, USA