This Epic Snow Tubing Hill In Rhode Island Will Give You The Thrill Of A Lifetime
Rhode Island definitely has a reputation as a state best enjoyed in the summer – and we do all love our beach days. But that doesn't mean we don't have plenty of fun things to do in the colder months as well! Winter in New England can be intense, and you'll want to be prepared to make the best of it. Check out Yawgoo Valley Ski Resort and Water Park in Rhode Island for fantastic snow tubing in the winter and water adventures in the summer.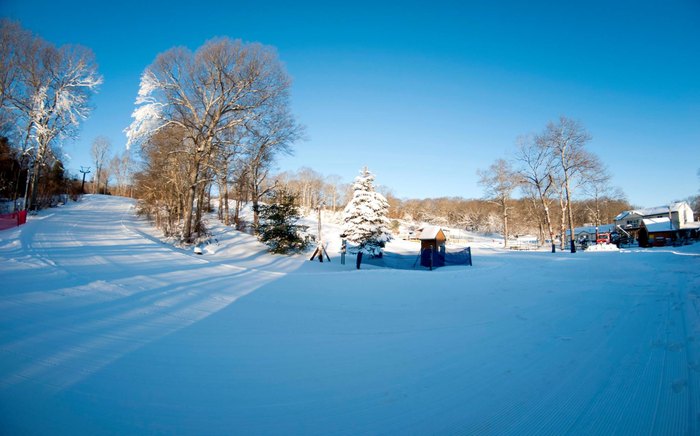 Tubing at Yawgoo Valley Ski Resort and Water Park in Rhode Island costs $15 per person (all ages, but tubers must be at least 42 inches tall) for a 50 minute session. Tubing runs through March, and the water park opens in June. Learn more and buy tickets on their website.
For more seasonal fun here in Rhode Island, read about how We Found The 5 Best Rhode Island Beaches To Visit In The Winter.
OnlyInYourState may earn compensation through affiliate links in this article.
Address: Yawgoo Valley Rd, Exeter, RI, USA
Yawgoo Valley Ski Resort and Water Park in Rhode Island
March 01, 2021
What are the best outdoor activities in winter in Rhode Island?
There is so much to do each winter in Rhode Island! Go for a winter hike to see a frozen waterfall, enjoy a quiet and chilly beach walk, find a local sledding hill or head to Yawgoo for snowsports. When local ponds freeze over, ice skates come out, and you might even see some ice fishing! Don't let the cold weather and blustery wind get you down - bundle up and get out there to experience winter here in Rhode Island.
Should I go hiking in winter in Rhode Island?
Winter hiking in Rhode Island is a true treat! Not only will you enjoy fewer crowds and quieter trails, but the weather can be ideal. You won't have to battle the bugs, and no sweltering heat will cause you to overexert yourself. However, winter hiking carries its own risks. You'll want to be sure you're in suitable clothing - merino wool makes for an amazing base layer, and cotton should be avoided. Your shoes should be waterproof, and you'll want to consider snowshoes if the snow gets deeper than 6"-8". You'll also want to carry a headlamp, since days are shorter, and trail spikes or trail crampons if you may encounter ice and slush. As always, be sure to tell someone your plans and leave no trace of your visit to the wilderness!
How much snowfall does Rhode Island get each year?
In Rhode Island, winter is a particularly frigid season! While we're not the coldest place in New England, or the snowiest, there's still a great deal of winter weather that comes through the Ocean State. Depending on where you are in Rhode Island, you'll likely see anywhere from 20 inches (along the bay and Block Island) to more than 45 inches (inland, away from the coasts).