The Ultimate Pennsylvania Hidden Gem Road Trip Will Take You To 7 Incredible Little-Known Spots In The State
Discovering hidden gems in Pennsylvania is kind of like finding out a big, juicy secret. You can't really tell anyone about it, because you made a promise you wouldn't. Then, again, you just want to tell everyone you know. The ultimate hidden gem road trip in Pennsylvania will take you to seven hidden gems across the state, some better known than others, that will make you feel like you know a juicy secret.
Here are the Google Map directions for the hidden gems road trip through the Keystone State. You can add more destinations, change course, or customize the road trip to your needs, timeline, and interests.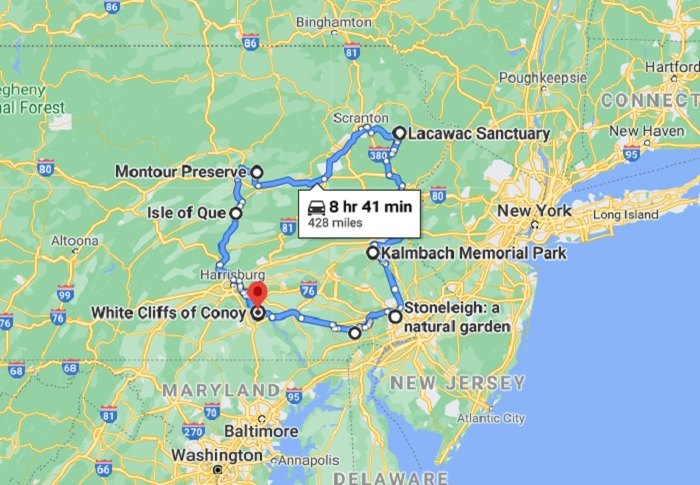 Have you been to any of the destinations on the hidden gems road trip in Pennsylvania? What did you think? What are your favorite hidden places to visit in the Keystone State? Let us know in the comments below! If you're into exploring beautiful hidden gems in PA, you might also want to plan a visit to these seven natural wonders in Pennsylvania you can witness for free… some are total unexplored treasures!
OnlyInYourState may earn compensation through affiliate links in this article.
More to Explore
Hidden gems in Pennsylvania
What are some hidden places in Pennsylvania?
The Keystone State is a veritable treasure trove of adventures; you'll find an abundance of hidden gems, hidden places, and hidden secrets in all corners of Pennsylvania! One of our favorite under-the-radar place in Pennsylvania is Salt Springs State Park. The hidden gem state park in PA is positively brimming with hiking trails, lush foliage, waterfalls, and local wildlife -- especially during the spring! Another hidden gem in Pennsylvania we simply can't get enough of is Hammersley Wild Area, one of the most resplendent and remote places in all of the Coal State. It's so remote and unspoiled, in fact, that motorized vehicles are not permitted in the wild area -- so you'll have to explore on foot (which we think only adds to its hidden gem appeal!). However, if you are an intrepid explorer who is willing to work a little, you'll be treated to some of the most beautiful views in the entire state. Lastly, Pine Creek Gorge, which is better known as the Grand Canyon of Pennsylvania, isn't exactly a hidden gem, but it is most certainly one of the most treasured natural treasures in the state and it's always, always worth exploring. It's a popular place to visit during the peak of fall foliage in Pennsylvania, but it shouldn't be ignored during the other seasons of the year. Summer, in particular, is absolutely brilliant at Pine Creek Gorge, and the quiet solitude and verdant greenery is sure to sweep you off your feet.
Related Articles