A Terrifying Pennsylvania Road Trip That Takes You To The Most Haunted Places In The State
Who doesn't love a good scare now and then? Pennsylvania has a reputation for being one of the most haunted states— exactly why is a bit of a mystery. Maybe because "Pennsylvania" sounds like "Transylvania." Maybe it's the scrapple. Or perhaps our scary reputation is due to the plethora of haunted places throughout the state. We've taken it upon ourselves to plan a road trip that will show off some of Pennsylvania's most haunted, terrifying locations. Here's the Google Maps link in case you want to get more exact directions, or shift things around a bit on the haunted road trip through Pennsylvania.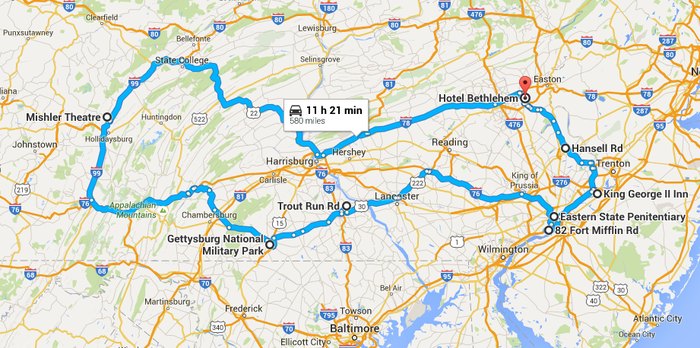 What else would you add to this haunted road trip through Pennsylvania? Let us know in the comments! To prep you for your road trip, read these eight ghost stories that prove Gettysburg is the most haunted town in Pennsylvania.
OnlyInYourState may earn compensation through affiliate links in this article.
Address: Historic Hotel Bethlehem, 437 Main St, Bethlehem, PA 18018, USA
Address: Hansell Rd, Doylestown, PA 18902, USA
Address: King George II Inn, 102 Radcliffe St, Bristol, PA 19007, USA
Address: Eastern State Penitentiary, 2027 Fairmount Ave, Philadelphia, PA 19130, USA
Address: Fort Mifflin, 6400 Hog Island Rd, Philadelphia, PA 19153, USA
Address: York, PA, USA
Address: Gettysburg, PA 17325, USA
Address: Mishler Theatre, 1208 12th Ave #206, Altoona, PA 16601, USA
haunted road trip through pennsylvania
July 25, 2020
What are the most haunted places in Pennsylvania?
To experience some of the creepy places in Pennsylvania that also happen to be haunted, follow the haunted road trip that will lead you to some of the scariest places in Pennsylvania. You'll start your journey at Hill View Manor in New Castle, where you might run into Mary Virginia, who loves baby dolls and still wanders around. Van Sant Covered Bridge, also commonly known as Crybaby Bridge, in New Hope is also one of the stops. The covered bridge's ghosts go back to the days of the Civil War. A mother in anguish desperately searches for her infant who, along with herself, has been murdered. You might catch a glimpse of the mom and hear the baby's cries.
Are there any haunted hotels in Pennsylvania?
If you like sharing your space with the spirits, you'll definitely want to check into one of the haunted hotels in Pennsylvania. Historic Hotel Bethlehem, for example, is one of the most haunted places in Pennsylvania. However, it's known to be home to some friendly spirits, including Mary Yohe, who enjoys singing and playing the piano when no one's around. The Gettysburg Hotel also tells some pretty fascinating haunted tales, too. Once used as a makeshift hospital, the hotel is said to still be home to some of the Civil War patients and nursing staff, including Rachel the nurse.
Are there haunted battlefields in Pennsylvania?
We sure have a lot of haunted places in Pennsylvania but only one, most of us would agree, is the most haunted. Gettysburg, site of one of the most significant battles of the Civil War, has been called the most haunted town in the United States. Its battlefield is just one haunted spot in Gettysburg. When you're at Devil's Den in Gettysburg, expect the unexpected. Many tell tales of a fog covering the battlefield. You may notice, coming out of the fog, soldiers marching and others on horses as lights flash across the battlefield.